Alberta
Province of Canada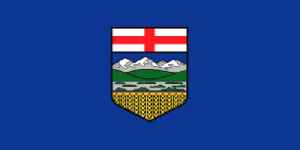 Alberta is a province of Canada. With an estimated population of 4,067,175 people as of the 2016 census, it is Canada's fourth most populous province and the most populous of Canada's three prairie provinces. Its area is about 660,000 square kilometres (250,000 sq mi). Alberta and Saskatchewan were formerly districts of the Northwest Territories until they were established as provinces on September 1, 1905.


Trudeau has 'serious questions' on arrest video

Canadian Prime Minister Justin Trudeau on Friday said that police dashcam video of the forceful arrest of a Canadian aboriginal chief raises questions about the Royal Canadian Mounted Police's use of..
Credit: Reuters Studio Duration: 01:41
Published
Rescuers pull out wild horse stuck in muddy swamp

It took 45 minutes for the team from Help Alberta Wildies Society to pull out the female horse that almost died from starvation. Video source: Help Alberta Wildies Society
Credit: Reuters - Viral Video Duration: 02:37
Published
You Might Like
Canadian province Alberta to study forming own pension plan, police force
The Canadian province of Alberta will study replacing the Canada Pension Plan (CPP) with a provincial plan and establishing a provincial police force, Premier Jason Kenney said on Wednesday after a..
Reuters - Published
Alberta launches Canada's first contact tracing app as economy slowly reopens
The Canadian province of Alberta on Friday launched the country's first phone app to trace contacts of people infected with the coronavirus, as the country slowly restarts its economy.
Reuters - Published
Canada to press U.S. further on medical supplies, Trudeau says
Canada will keep up efforts to persuade the United States not to block the export of medical supplies to fight the coronavirus, Prime Minister Justin Trudeau said on Tuesday, while the energy-producing..
Reuters - Published
Gorgeous sunrise in Canada looks like sky is on fire
Lenticular clouds during a sunrise in Canmore, Alberta gave the sky a fiery glow.
USATODAY.com - Published
Global Financial Giants Swear Off Funding an Especially Dirty Fuel
Lenders and investors, under pressure to act on climate change, have stopped funding Alberta's vast oil-sands developments, and the province is fighting back.
NYTimes.com - Published
Father's energy legacy haunts Canada's Trudeau as he seeks to heal rift with angry Alberta
Canadian Prime Minister Justin Trudeau has an unusual challenge as he seeks to charm angry westerners who fear he will destroy the region's oil and gas industry - the legacy of his father, who was..
Reuters - Published
At home with the Property Brothers
They are the reigning kings of home renovation reality TV: identical twins Drew and Jonathan Scott, stars of the HGTV series "Property Brothers." Michelle Miller visits with the Scotts, and heads out..
CBS News - Published
Train derails in Canada's Alberta, causes evacuation
A train derailed in Canada's southern Alberta province on Friday, prompting an evacuation of nearby residents for fear of chemical exposure and disrupting road and highway access, the Alberta..
Reuters - Published