James Harden
American basketball player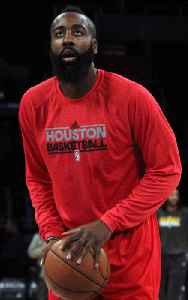 James Edward Harden Jr. is an American professional basketball player for the Houston Rockets of the National Basketball Association (NBA). He played college basketball for Arizona State, where he was named a consensus All-American and Pac-10 Player of the Year in 2009. Harden was selected with the third overall pick in the 2009 NBA draft by the Oklahoma City Thunder. In 2012, he was named NBA Sixth Man of the Year with the Thunder and helped the team reach the NBA Finals.


James Harden's historic 30-point scoring streak
Houston Rockets star James Harden is on a historic streak of scoring at least 30 points. Here's a look at how the run has happened.
USATODAY.com - Published
James Harden's historic scoring streak: Inside the eye-popping numbers
Love or hate his style of play, James Harden is on a historic scoring streak the likes of which we haven't seen in the NBA in over half a century.
USATODAY.com - Published
Harden Leads Houston Passed Golden State
According to Business Insider, James Harden put down the Golden State Warriors with a thrilling 3-pointer in the final seconds of overtime. The Houston Rockets beat the Warriors 135-to-134. But the..
Credit: Wochit News Duration: 00:46Published
Houston's James Harden Is On An Incredible Hot Streak
According to Deadspin, reigning NBA MVP James Harden is averaging 39.7 points and 8.5 assist for the Houston Rockets in his last 11 games. Harden has nearly completely picked up the slack since Rockets..
Credit: Wochit News Duration: 00:37Published
T-Wolves overcome Harden's 42 to top Houston 121-111
Jeff Teague scored 27 points, Karl-Anthony Towns had 25 and the Minnesota Timberwolves overcame James Harden's 42 points to beat the Houston Rockets 121-111
USATODAY.com - Published
James Harden ties second-longest 30-point streak, but overshadowed by loss and rookie's block
James Harden extended his streak of 30-point games to 31, but T'wolves rookie Josh Okogie stole the show with a ferocious block on the Rockets star.
USATODAY.com - Published
James Harden extends 30-point streak with last-minute 3 in Rockets' win over Mavericks
On a night when he struggled shooting, James Harden hit a 3 with 53 seconds left to reach 31 points, his 30th consecutive game with at least 30.
USATODAY.com - Published
Harden runs 30-point streak to 30, Rockets beat Mavs 120-104
James Harden scored 31 points for his 30th straight 30-point game despite dealing with a shoulder injury to lead the Houston Rockets to a 120-104 win over the Dallas Mavericks on Monday night
USATODAY.com - Published
You Might Like