Maria Ressa
Filipina journalist who is the CEO of Rappler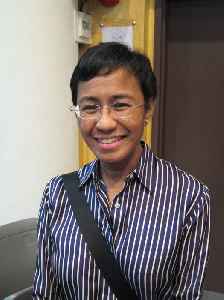 Maria Ressa is a Filipina journalist, businesswoman, and an author. She is best known as the Chief Executive Officer of the Rappler online news website. She previously spent nearly two decades working as a lead investigative reporter in Southeast Asia for CNN.


Rappler news' Maria Ressa calls for press freedom at Philippines rally
Maria Ressa, the CEO and executive editor of the Manila-based online news site Rappler, was arrested in the Philippines earlier this week for alleged cyber libel.
CBS News - Published
Philippine journalist posts bail, calls for "outrage" over libel arrest
"What we're seeing is death by a thousand cuts of our democracy," Rappler CEO and editor Maria Ressa says after release
CBS News - Published
High-profile Philippine journalist Maria Ressa freed on bail
Maria Ressa, chief of Philippine news website Rappler known for its scrutiny of Philippine President Rodrigo Duterte, has been released on bail after her widely condemned arrest for libel charges the..
Credit: Reuters Studio Duration: 01:59Published
Filipino Journalist Maria Ressa Granted Bail
Filipino Journalist Maria Ressa Granted Bail
Credit: Time Duration: 00:31Published
Journalist Maria Ressa Arrested for 'Cyber Libel' in the Philippines
Journalist Maria Ressa, founder of the news website Rappler, was arrested Wednesday in the Philippines on charges of "cyber libel" that are widely seen as a crackdown on the site's reporting
Credit: Time Duration: 03:07Published
Philippines: Rappler journalist Maria Ressa arrested for libel
The case, under a controversial law penalising online libel, stems from a news story published before law was passed.
Credit: Al Jazeera STUDIO Duration: 02:12Published
Philippine Journalist Maria Ressa Arrested
CNN reports Maria Ressa, a high-profile Philippine journalist and vocal critic of the country's president, was arrested Wednesday in connection with "cyber libel" charges against Rappler, the news site..
Credit: Wochit News Duration: 00:39Published
Philippines Journalist Maria Ressa Slams 'Ridiculous' New Libel Charge as Human Rights Groups Pledge Support
Maria Ressa, founder of the Philippines-based news website Rappler, was indicted for a second time this week — a move widely viewed as part of a crackdown on free press in the country.
Credit: Time Duration: 01:15Published
Maria Ressa, critic of Philippines president, arrested for "cyber libel"
Philippine journalist Maria Ressa, CEO of the news site Rappler, has been arrested and charged with cyber libel. She spoke with CBSN recently about President Rodrigo Duterte's efforts to silence the..
CBS News - Published
Philippines arrests journalist who warned of threat to democracy
Maria Ressa, editor of news website Rappler, is accused of cyber libel based on a law enacted months after the allegedly offending article
CBS News - Published
Search this site and the web:
You Might Like