Sunset
Daily disappearance of the Sun below the western half of the horizon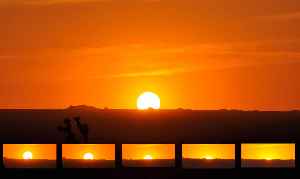 Sunset, also known as sundown, is the daily disappearance of the Sun below the horizon due to Earth's rotation. As viewed from the Equator, the equinox Sun sets exactly due west in both Spring and Autumn. As viewed from the middle latitudes, the local summer Sun sets to the northwest for the Northern Hemisphere, but to the southwest for the Southern Hemisphere.


You Might Like
AP Top Stories June 20 P
Here are the top stories for Saturday, June 20th: Manhattan top prosecutor leaves job after standoff with Barr; Bolton can publish book; Thousands pack Trump rally amid fears it could fuel virus;..
USATODAY.com - Published
Search this site and the web: