Andy Warhol
American artist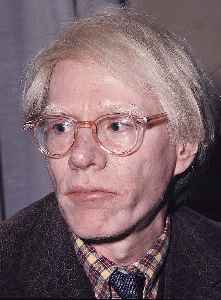 Andy Warhol was an American artist, director and producer who was a leading figure in the visual art movement known as pop art. His works explore the relationship between artistic expression, advertising, and celebrity culture that flourished by the 1960s, and span a variety of media, including painting, silkscreening, photography, film, and sculpture. Some of his best known works include the silkscreen paintings Campbell's Soup Cans (1962) and Marilyn Diptych (1962), the experimental film Chelsea Girls (1966), and the multimedia events known as the Exploding Plastic Inevitable (1966–67).


Andy Warhol's 'Prince Series' Is Fair Use, Court Rules
The artwork did not violate the photographer Lynn Goldsmith's copyright, according to a ruling that sided with the Andy Warhol Foundation for the Visual Arts.
NYTimes.com - Published
Andy Warhol, sudden oak death, Kingda Ka coaster: News from around our 50 states
Nevada's swing-state status puts Highway Patrol in the red, Arizona high court gives OK to hashish, and more
USATODAY.com - Published
How Andy Warhol artworks were stolen from the Springfield Art Museum
How Warhol's Campbell's Soup screenprints were taken from the Springfield Art Museum.
USATODAY.com - Published
The best exhibits at European museums for winter 2019
See works by famous artists including Rembrandt, Velázquez and Warhol, as well as some lesser-known painters like Canaletto and Sorolla.
USATODAY.com - Published
Super Bowl ad: Coke uses Andy Warhol quote to remind viewers, 'A Coke is a Coke'
Andy Warhol's name isn't mentioned on air, but a quote from the late pop-art icon is the inspiration for Coca-Cola's animated Super Bowl ad.
USATODAY.com - Published
Search this site and the web:
You Might Like