Andy Warhol
American artist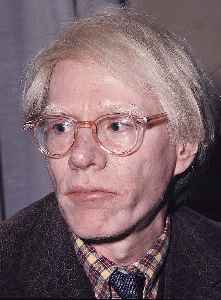 Andy Warhol was an American artist, film director, and producer who was a leading figure in the visual art movement known as pop art. His works explore the relationship between artistic expression, advertising, and celebrity culture that flourished by the 1960s, and span a variety of media, including painting, silkscreening, photography, film, and sculpture. Some of his best known works include the silkscreen paintings Campbell's Soup Cans (1962) and Marilyn Diptych (1962), the experimental film Chelsea Girls (1966), and the multimedia events known as the Exploding Plastic Inevitable (1966–67).


You Might Like
Today in History for February 22nd
Highlights of this day in history: George Washington, America's first president, is born; Iraqi insurgents destroy a Shiite shrine's golden dome; the 'Miracle on Ice' during the 1980 Winter Olympics;..
USATODAY.com - Published
Raeanne Rubenstein, Versatile Celebrity Photographer, Dies at 74
She had a knack for capturing her subjects, whether Andy Warhol in New York or Dolly Parton in Nashville, in ways that caught their essence.
NYTimes.com - Published
Glenstone, the art museum built in nature
Mitch and Emily Rales built Glenstone to share their extraordinary collection of modern and contemporary art. But they wanted to make this a different kind of museum – a blend of art, architecture..
CBS News - Published
Andy Warhol's 'Prince Series' Is Fair Use, Court Rules
The artwork did not violate the photographer Lynn Goldsmith's copyright, according to a ruling that sided with the Andy Warhol Foundation for the Visual Arts.
NYTimes.com - Published
Search this site and the web: