Fort Worth, Texas
City in Texas, United States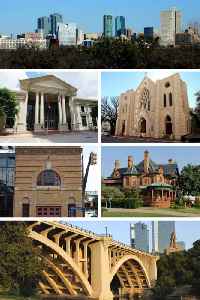 Fort Worth
is the fifth-largest city in the U.S. state of Texas and the 13th-largest city in the United States. It is the county seat of Tarrant County, covering nearly 350 square miles (910 km
2
) into three other counties: Denton, Parker, and Wise. According to the 2019 census estimates, Fort Worth's population was 909,585. Fort Worth is the
second-largest
city in the Dallas–Fort Worth–Arlington metropolitan area, which is the 4th most populous metropolitan area in the United States.
Rory McIlroy says he missed golf as PGA Tour resumes

Rory McIlroy is looking forward to seeing golf take its place at "the centre of the sports world" as the PGA Tour returns from its three-month suspension. The Northern Irishman will tee up at the..
Credit: PA - Press Association STUDIO Duration: 00:53
Published
Trump says national guard 'cut through' protests 'like butter'

Protesters defied curfews and threats of military force on Wednesday in nationwide protests across police brutality, while President Donald Trump touted the use of the National Guard to tamp down..
Credit: Reuters Studio Duration: 02:03
Published
Chaos captured on camera as shots fired in Texas park

Police department dashcam video captured the chaos when shots were fired at a crowded park in Texas. Five people were injured Sunday night at the park in Fort Worth, as police tried to break up a party..
Credit: PA - Press Association STUDIO Duration: 00:42
Published
You Might Like



Woman spits on 7-Eleven counter after being asked to wear a mask

A woman spit on the counter of a Fort Worth 7-Eleven after yelling at the cashier that she has "a right" to not wear a face mask.




USATODAY.com - Published





Dashcam shows chaos as shots fired in Texas park

Police department dashcam video captured the chaos when shots were fired at a crowded Texas park. Five people were injured Sunday when a shooter opened fire at a Fort Worth park where hundreds..




USATODAY.com - Published





Shooting at Fort Worth Park With 600 People Leaves 5 Wounded

It was not clear what such a large crowd was doing at the park in Fort Worth during the pandemic, the police said. Witnesses told officials at least 30 gunshots were heard.




NYTimes.com - Published





Texas judge: Baby can be removed from life support

A Texas judge has sided with a Fort Worth hospital that plans to remove an 11-month-old girl from life support against her mother's wishes. (Jan. 2)  




USATODAY.com - Published





Gunman killed by parishioners after opening fire in North Texas church

The "heroic actions" abruptly ended the shootout at the West Freeway Church of Christ in White Settlement, about 10 miles west of Fort Worth.  




USATODAY.com - Published





At least two dead in Texas church shooting

Two people were killed and a third was in critical condition after a shooting on Sunday at a church in the suburbs of Fort Worth, Texas, local authorities said.




Reuters - Published




Two dead, one critically wounded when gunman opens fire at church outside Fort Worth, Texas

Two people were dead and one was in critical condition after a gunman opened fire Sunday at a North Texas church, authorities said.




USATODAY.com - Published




With hospital poised to halt baby's life support, family wins reprieve

Texas family that disagrees with a Fort Worth hospital's plan to take a 9-month-old girl off life support has been given more time to find a facility to take her




CBS News - Published





Video shows dramatic rescue of girl kidnapped in Texas

We're learning about the dramatic rescue of an 8-year-old girl in Texas after a harrowing kidnapping on the street in Fort Worth in May. Newly released video shows heavily armed officers using a..




CBS News - Published





Texas hospital wants to take sick 9-month-old girl off life support

A 9-month-old girl is at the center of a legal fight between her family and a Texas hospital. Tinslee Lewis was born with a rare heart defect, and she has a chronic lung disease. Doctors believe..




CBS News - Published





White police officer kills black woman in her home in Fort Worth

A white police officer shot and killed a black woman inside her own home in Fort Worth on Saturday. According to recent data compiled by The Washington Post, there have been 75 deadly police shootings..




CBS News - Published




Former MLB All-Star Josh Hamilton arrested on child abuse charge

Former Texas Ranger Josh Hamilton turned himself Wednesday in Fort Worth on a charge of injuring a child.




USATODAY.com - Published





Atatiana Jefferson funeral rescheduled after father's concerns are addressed

A family dispute that delayed the services for a woman killed at her home by a police officer in Fort Worth, Texas, has been resolved with a rescheduled funeral.




USATODAY.com - Published




Fort Worth Police Have More Violence to Answer For, Residents Say

Black residents of the city complained about mistreatment by the police long before Atatiana Jeffersons death. "I never was supposed to be arrested," said one woman. "I was the caller."




NYTimes.com - Published





Funeral for Woman Killed by Fort Worth Officer Is Postponed

The service for Atatiana Jefferson was expected to draw large crowds on Saturday but has been delayed following a judge's ruling.




NYTimes.com - Published





Texas prosecutors seek murder indictment against officer who shot woman at home

Texas prosecutors said on Friday they would seek a murder indictment against the former Fort Worth police officer who shot dead a 28-year-old black woman in her home.




Reuters - Published





Fort Worth residents "don't feel safe" after shooting death of Atatiana Jefferson

Residents in Fort Worth, Texas are outraged after 28-year-old Atatiana Jefferson was shot and killed by a police officer in her own home. Some members of the community are accusing the police..




CBS News - Published





Texas police shooting shatters community trust

A white officer killing a black Fort Worth woman in her home has shattered the trust police have been trying to build with communities of color. (Oct. 17)  




USATODAY.com - Published





10/16: CBS Evening News

House condemns Trump's Syria withdrawal; Fort Worth residents demand action after deadly police shooting.




CBS News - Published





Fort Worth residents demand action after deadly police shooting

The fallout continues after a black woman was shot and killed by a former officer in her own home. At a city council meeting, residents called for a change in policing tactics. Omar Villafranca..




CBS News - Published





Texas pastors seek federal action after police shoot black woman in her home

Black pastors in Fort Worth, Texas on Wednesday called for federal intervention to stamp out what they called systemic racism in their city's police force after a white officer shot dead black resident..




Reuters - Published





At tense Fort Worth council meeting, outrage over police shooting

Community residents are calling for accountability and action to address what they call systemic racism in Fort Worth




CBS News - Published




'Unbelievable' loss: Atatiana Jefferson's family remembers the life of Fort Worth shooting victim

The family of Atatiana Jefferson is still reeling from her death and questioning the "terrible and tragic" actions of former officer Aaron Dean.




USATODAY.com - Published




Texas woman killed by officer pointed gun after hearing noises

A Texas woman was shot dead by a Fort Worth police officer in her home after she heard noises outside, picked up a handgun and pointed it at a window, the officer's arrest warrant showed on Tuesday.




Reuters - Published




'No Excuse': Fellow Officers Condemn Police Shooting of Fort Worth Woman

Officer Aaron Dean has been charged with murder. But Atatiana Jefferson's family is still looking for answers.




NYTimes.com - Published





Police chief: 'No excuse' for black woman's death

Fort Worth's police chief pleaded with the city to not allow the killing of a black woman by a white police officer reflect badly on the entire department. (Oct. 15)  




USATODAY.com - Published





Officer arrested in fatal Texas shooting

Fort Worth police are telling a grieving public that "we feel and understand your anger," after a white officer was charged with murder for shooting a black woman through a window of her home. (Oct...




USATODAY.com - Published





Fort Worth police give update on officer charged with murder

During a news conference Tuesday, Fort Worth interim police chief Ed Kraus vowed that the officer who fatally shot a black woman in her home will be held accountable. Aaron Dean is charged with murder..




CBS News - Published





Texas officer named in fatal shooting has resigned

The interim police chief says the Fort Worth, Texas, officer who shot a 28-year-old black woman inside her own home over the weekend resigned before he could be fired. (October 14)  




USATODAY.com - Published





Fort Worth officer Aaron Dean free on bond after fatal shooting of Atatiana Jefferson in her home

Aaron Dean, the former Fort Worth officer who is accused of murder in the fatal shooting of Atatiana Jefferson, has been freed on bond.




USATODAY.com - Published




Retired Fort Worth officer: "I'm afraid when I get stopped"

Aaron Dean, a white former police officer, is out on bond after being arrested and charged with murder for shooting Atatiana Jefferson, a black woman, inside her Texas home. He was responding to a..




CBS News - Published




Texas policeman faces murder charges after killing black woman in her home

A white Fort Worth, Texas, police officer was jailed on murder charges on Monday in the fatal shooting of a 28-year-old black woman who was babysitting inside her home, the police department said.




Reuters - Published




Texas policeman charged with murder in shooting death of black woman: reports

A white police officer in Fort Worth, Texas was charged with murder after he shot dead a 28-year-old black woman inside her home, multiple media outlets reported on Monday.




Reuters - Published





Fort Worth officials apologize, announce investigation in police shooting

Fort Worth Mayor Betsy Price and interim Police Chief Ed Kraus held a news conference Monday about the death of Atatiana Jefferson, who was shot and killed by a police officer in her own home. They..




CBS News - Published





Family of woman killed by Fort Worth cop in home demands justice

The family of Atatiana Jefferson, the black woman shot and killed in her own home by a white Fort Worth police officer Saturday, spoke at a press conference Monday demanding justice.




CBS News - Published





Police officer resigns after shooting dead Texas woman in her home

A white Fort Worth, Texas police officer has resigned after he shot dead a 28-year-old black woman inside her home, the city's police chief said on Monday.




Reuters - Published





Who was Atatiana 'Tay' Jefferson? Fort Worth woman killed by cop represented 'honor, integrity'

Atatiana Jefferson, who was fatally shot in her Texas home, was a college graduate, a pharmaceutical equipment sales rep and a loving daughter.




USATODAY.com - Published




Family demands prosecution after Texas woman killed by police inside her home

The family of a 28-year-old black woman shot dead by a white male police officer inside her Fort Worth, Texas home called on Monday for an independent, federal investigation and swift prosecution.




Reuters - Published





Family: Cop who killed woman in her home should be fired and charged

Atatiana Jefferson, 28, was playing video games with her young nephew when she was killed by a Fort Worth officer




CBS News - Published





Nephew, 8, was in room when Fort Worth police shot woman in her home while the two played video games

An 8-year-old boy was in the room when his aunt was fatally shot while playing video games in her home by a Fort Worth officer.




USATODAY.com - Published