Venezuelans
Citizens, or natives, of Venezuela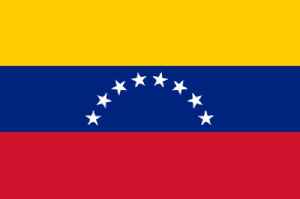 Venezuelan people are people identified with Venezuela. Venezuelans are predominantly Roman Catholic and speak Spanish. The majority of Venezuelans are the result of a mixture of Europeans, Africans and Amerindians. Approximately 51.6% of the population are Mestizos of mixed European, African and Amerindian ancestry, and 43.6% of Venezuelans identify as European or Middle Eastern. An additional 3.6% identify as Black/African-descendants, while 3.2% identify as Amerindians.


Angry Venezuelans wait hours for fuel as shortages worsen
Angry drivers queued for hours in towns across Venezuela on Friday as fuel shortages worsened in the South American nation following a plunge in gasoline imports and a stoppage at the nation's..
Reuters - Published
Venezuela reopens border where migrants used trails to reach Brazil
Venezuela reopened its border crossing to Brazil on Friday, after its closure for nearly three months forced desperate Venezuelans to use indigenous trails to smuggle food and basic goods or to flee..
Reuters - Published
Venezuelan migrants find temporary respite at UN camp
The camp, the only one of its kind in Colombia, opened in March in a bid to provide some shelter for the rising number of Venezuelans fleeing a humanitarian crisis in their homeland. Jonah Green has..
Credit: Reuters Studio Duration: 01:36Published
Venezuelans rally in rival protests as crisis intensifies
Thousands march in Venezuela a day after opposition's Guaido called for uprising as Maduro remained defiant.
Credit: Al Jazeera STUDIO Duration: 02:38Published
Guaido Calls For 'Largest March In History' In Uprising Effort
Reuters reports Venezuelans were expected to take to the streets on Wednesday for what opposition leader Juan Guaido pledged would be the "largest march" in the country's history, a day after he..
Credit: Wochit News Duration: 00:40Published
Venezuelans rally as opposition leader Guaido calls for uprising
Opposition and gov't supporters join protest after Guaido calls for 'military uprising' to remove President Maduro.
Credit: Al Jazeera STUDIO Duration: 02:29Published
Venezuelans fight for survival as US sanctions worsen inflation
Everything in Venezuela, especially medicine, has become so much more expensive after sanctions.
Credit: Al Jazeera STUDIO Duration: 02:30Published
Venezuelans wade across border river in exodus to Colombia
Thousands of Venezuelans are taking to the border river with Colombia to escape shortages, crime and a flailing economy back home.
Credit: euronews (in English) Duration: 00:50Published
Venezuelans scramble for water
Many took to the streets of the capital on Sunday to fill water buckets, amidst failing infrastructure in the OPEC nation's capital.
Credit: Reuters Studio Duration: 00:52Published
Colombian undertaker offers free burials to poor Venezuelan migrants
Sonia Bermudez is a retired forensic doctor with a life-long mission: caring for Venezuelans dying destitute in an area of northern Colombia and saving them from a communal grave.
Credit: Al Jazeera STUDIO Duration: 02:33Published
The Kremlin And Venezuela
According to Reuters, Kremlin spokesman Dmitry Peskov said on Thursday that Russian military specialists are in Venezuela to service pre-existing contracts for the supply of Russian arms. Peskov also..
Credit: Wochit News Duration: 00:36Published
Venezuelans turn to food production amid crisis
In the middle of Venezuela's political and economic crisis, and with US sanctions looming, agro-ecological projects are springing up in hopes of curbing food shortages.
Credit: Al Jazeera STUDIO Duration: 03:23Published
Venezuelans migrants in Colombia share stories of their struggle
The UN describes Venezuela's refugee exodus as the worst crisis in Latin America. Al Jazeera met some who have fled.
Credit: Al Jazeera STUDIO Duration: 02:40Published
Search this site and the web:
You Might Like