Palau
Island country in the western Pacific Ocean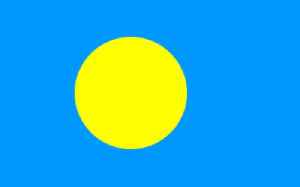 Palau, officially the Republic of Palau, is an island country located in the western Pacific Ocean. The country contains approximately 340 islands, and together with parts of the Federated States of Micronesia, forms the western chain of the Caroline Islands. Its area is 466 square kilometers (180 sq mi). The most populous island is Koror. The capital Ngerulmud is located on the nearby island of Babeldaob, in Melekeok State. Palau shares maritime boundaries with the Philippines, Indonesia, and Micronesia.


You Might Like
Taiwan virus cases jump after ship visit, Palau says not the source
Taiwan reported 22 new coronavirus cases on Sunday, almost all of them sailors who were on a navy visit to the small Pacific islands state of Palau, which said there was "little chance" it was the..
Reuters - Published
Taiwan to quarantine 700 navy sailors after virus outbreak
Taiwan will put 700 navy sailors into quarantine after three cases of the new coronavirus were confirmed among sailors who had been on a goodwill mission to the Pacific island state of Palau, the..
Reuters - Published
'As long as necessary': Coronavirus holdout Palau opts for self-isolation
The Pacific island nation of Palau is one of the world's last countries still free of the coronavirus, and it's doing all it can to stay that way.
Reuters - Published
EU lists Cayman Islands, Panama as tax havens, spares Turkey
European Union finance ministers added Panama, the Seychelles, the Cayman Islands and Palau to the EU's blacklist of tax havens, while giving Turkey more time to avoid being listed, an EU document said..
Reuters - Published
Falling Apart, Chernobyl, Forgotten Corner of Hell
Steve Kroft reports on why our roads, bridges, airports and rail are outdated and need to be fixed; and, Anderson Cooper accompanies volunteers searching for the remains of World War II airmen missing..
CBS News - Published
Search this site and the web: