Loch Ness Monster
Alleged creature in Scotland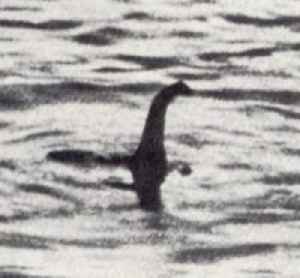 The Loch Ness Monster, or Nessie, is a cryptid in cryptozoology and Scottish folklore that is said to inhabit Loch Ness in the Scottish Highlands. It is often described as large, long-necked, and with one or more humps protruding from the water. Popular interest and belief in the creature have varied since it was brought to worldwide attention in 1933. Evidence of its existence is anecdotal, with a number of disputed photographs and sonar readings.


You Might Like
Using DNA to track down the Loch Ness monster
New clues are emerging this morning on just what, if anything, is living in Scotland's notorious Loch Ness. Speculation about the Loch Ness monster – nickname "Nessie" – has raged for year. But..
CBS News - Published
AP Top Stories September 5 P
Here's the latest for Thursday September 5th: Tornado strikes North Carolina, Pence Meets Johnsom; Woman arrested with baby in bag; Loch Ness Monster investigation concludes. (Sept 5)  
USATODAY.com - Published
Thousands plan to 'Storm Loch Ness' to find Nessie day after they 'see them aliens' at Area 51
A Facebook event has been created encouraging users to 'Storm Loch Ness' the day after the joke event 'Storm Area 51' is set to take place.  
USATODAY.com - Published
MOVIE REVIEW: Missing Link
by Graham Pierrepoint - MISSING LINK IMDb Dir: Chris Butler Starring Hugh Jackman, Zoe Saldana, Emma Thompson, Stephen Fry, David Walliams, Timothy Olyphant, Matt Lucas, Amrita Acharia, Zach..
One News Page Staff - Published
Search this site and the web: