Police
Law enforcement body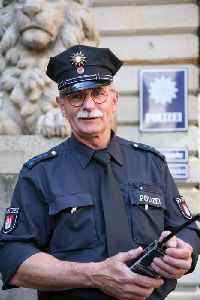 The police are a constituted body of persons empowered by a state to enforce the law, to protect the lives, liberty and possessions of citizens, and to prevent crime and civil disorder. Their powers include the power of arrest and the legitimized use of force. The term is most commonly associated with the police forces of a sovereign state that are authorized to exercise the police power of that state within a defined legal or territorial area of responsibility. Police forces are often defined as being separate from the military and other organizations involved in the defense of the state against foreign aggressors; however, gendarmerie are military units charged with civil policing. Police forces are usually public sector services, funded through taxes.


While parking, car drives on top of another car at New Jersey shopping center
Police said the driver accidentally stepped on the gas instead of the brake.
USATODAY.com - Published
British police fire shots after "car-ramming" outside embassy
Police said the incident is not being treated as related to terrorism
CBS News - Published
Netherlands: Multiple Injuries In Tram Shooting
According to Business Insider Several people have been injured in a tram shooting in Utrecht, central Netherlands, on Monday morning. At least one person is dead, Police said a person, or a number of..
Credit: Wochit News Duration: 00:31Published
Murder charge for New Zealand shooting suspect
The main suspect in mass shootings at two New Zealand mosques was charged with one count of murder a day after an attack that killed 49 people and wounded dozens, prompting the prime minister to vow..
Credit: Reuters Studio Duration: 02:25Published
Prince William and Kate visit Northern Irish arts center
Britain's Prince William and wife Kate visited Northern Ireland's art centre in Ballymena on Thursday, the second day of their trip to the British province. Rough cut (no reporter narration).
Credit: Reuters Studio Duration: 01:10Published
Jussie Smollett Staged Hate Attack Because He Was Unhappy About His Salary, Police Say
Jussie Smollett Staged Hate Attack Because He Was Unhappy About His Salary, Police Say
Credit: Time Duration: 01:29Published
Search this site and the web:
You Might Like