Midland, Michigan
City in Michigan, United States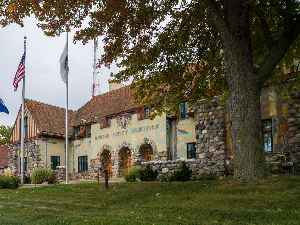 Midland is a city in the U.S. state of Michigan in the Tri-Cities region of Central Michigan. It is the county seat of Midland County. The city's population was 41,800 as of the 2018 census estimate. It is the principal city of the Midland Micropolitan Statistical Area, part of the larger Saginaw-Midland-Bay City Combined Statistical Area.


You Might Like
'A nightmare movie': Tales of Michigan residents escaping the catastrophic Midland flood
A catastrophic gush of water wipes out a community in Midland County, Michigan. And no one saw it coming.
USATODAY.com - Published
As Virus Threat Lingers in Michigan, a New Crisis Arrives: Flooding
Thousands of residents of Midland, Mich., fled their homes as waters rose, trying to keep safe social distances even in shelters.
NYTimes.com - Published
'Life-threatening' flood submerges central Michigan city after two dams breached
Flood waters as high as five feet submerged parts of the city of Midland in central Michigan on Wednesday after heavy rain caused a swollen river to overflow its banks and breach two nearby dams, but..
Reuters - Published
Michigan Dam Disaster Threatens Major Dow Toxic-Chemical Superfund Site
Floodwaters surged toward Midland, Mich., and one of the nation's most extensive toxic cleanup sites, raising concerns of a wider environmental fallout from the dam disaster.
NYTimes.com - Published
'Do not hesitate': Michigan Gov. Gretchen Whitmer urges evacuations, warns Midland could be under 9 feet of water by Wednesday
Michigan Gov. Gretchen Whitmer has declared a state of emergency for Midland County after the Edenville and Sanford dams breached on Tuesday.
USATODAY.com - Published
Search this site and the web: