Fresno, California
City in California, United States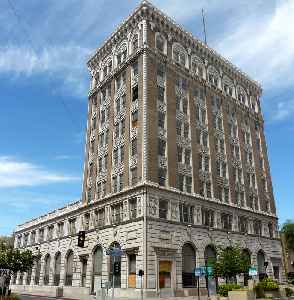 Fresno is a city in and the county seat of Fresno County, California, United States. It covers about 112 square miles (290 km2) in the center of the San Joaquin Valley, the southern portion of California's Central Valley.


How low-burping cows could put a dent on emissions

A Swiss-engineered cattle-feed additive being tested out in the United States could be one promising step in reducing greenhouse gas emissions from cattle. Gavino Garay reports.
Credit: Reuters - Politics Duration: 03:00
Published
Hundreds of thousands flee from U.S. West fires

Dozens of extreme, wind-driven wildfires burned through forests and towns in U.S. West Coast states on Thursday, destroying hundreds of homes, killing at least nine people and forcing hundreds of..
Credit: Reuters - Politics Duration: 01:40
Published
Rescue missions as California fire ravages town

[NFA] The Creek Fire, which has engulfed the Fresno area in central California and caused the emergency evacuation over the weekend of more than 200 people vacationing at a popular reservoir, was still..
Credit: Reuters Studio Duration: 01:44
Published
Miley Cyrus adopts dog taken in by Fresno firefighters

Miley Cyrus has given a bulldog a real-life rags to riches story by adopting her after she was taken in by firefighters in Fresno.
Credit: Cover Video STUDIO Duration: 00:51
Published
You Might Like



Military pilots attempt to rescue hikers and campers near Fresno, California

Military pilots tried to rescue dozens of stranded hikers and campers near Fresno, California, but heavy smoke from the Creek Fire stopped them. The fire has also destroyed the town of Big Creek...




CBS News - Published





Miley Cyrus Adopts Abandoned Bulldog

Miley Cyrus did a great thing in the middle of this pandemic ... she adopted an abandoned pooch that is now one lucky dog. The bulldog in question had been wandering around Fresno, CA back in April .....




TMZ.com - Published





Strong Earthquake Strikes Central California

It was not immediately clear if there were any injuries or damage associated with the quake, which struck near Lone Pine, Calif., southeast of Fresno.




NYTimes.com - Published





'We all stay home': no work and no stimulus checks for undocumented family in U.S.

In Fresno, California, 58-year-old grandmother Maria Luisa Salazar shares a mobile home with her family of 11. Afraid that going to work would put them at risk of the coronavirus, she has stopped..




Reuters - Published





The Battle for California's 20 Million Voters Came Early This Year

And Michael Bloomberg and Bernie Sanders are competing fiercely in places like Fresno, where candidates very rarely go.




NYTimes.com - Published





AP Top Stories January 1 A

Here's the latest for Wednesday January 1st: Trump sending troops to Mideast after embassy attack; Australia deploys military ships to help fire victims; Gang members arrested in Fresno shootings;..




USATODAY.com - Published




Arrests made in deadly Fresno, Calif. shooting

Police in Fresno, California say they have arrested six suspected gang members in the shooting deaths of four men last month at a backyard gathering of family and friends. Police also say they've..




USATODAY.com - Published





Police arrest six in gang-related November shooting in California

Six people have been arrested for a November shooting rampage that killed four people and injured six at a backyard football-viewing party in Fresno, California, police said on Tuesday.




Reuters - Published





6 suspected gang members arrested in shooting in Fresno backyard that killed 4

The Fresno Police Department has arrested six people in a mass shooting that killed four and injured several others during a backyard party.




USATODAY.com - Published




A Closer Look at Fresno's Hmong Community

Wednesday: A new report examines challenges facing Southeast Asians and Pacific Islanders. Also: PG&E struggles to find a way out of bankruptcy.




NYTimes.com - Published





Hmong leaders reject gang connection in deadly Fresno party shooting; police fear more violence

The manhunt continued for at least two gunmen whose rampage at a Fresno party left four people dead and the Hmong community in shock and mourning.




USATODAY.com - Published




Police, neighbors seek answers in Fresno shooting

Police searched Monday for two assailants who sneaked into a backyard party in Fresno and opened fire on a crowd that had gathered to watch football on television. Four people were killed and six..




USATODAY.com - Published





Trump on gun laws is all talk, no action and more deaths

Shootings in Fresno, California, Sunday and Duncan, Oklahoma, Monday. The dying doesn't stop because Trump decides action won't benefit him: Our view




USATODAY.com - Published





Police say victims of Fresno football party shooting were "targeted"

Gunmen who killed four men and wounded six others at a backyard football-viewing party of mostly ethnic Hmong had targeted the residence in Fresno, California, possibly in retaliation for a previous..




Reuters - Published





Fresno police creating Asian gang task force after a shooting that killed four people

Four people were killed and six people were injured after "unknown suspects" snuck into a "friend and family gathering" in Fresno, California.  




USATODAY.com - Published





Fresno police looking into gang connection after shooting at football party leaves 4 dead, 6 wounded

Four people were killed and six wounded in what Fresno police described as a 'mass casualty shooting' at an outdoor, football watching party.




USATODAY.com - Published





4 people killed, 6 wounded in shooting at Fresno party

Tragedy struck Fresno when someone opened fire at a party, killing four people and wounding six. Police have not made any arrests, and do not know what the motive was. Dennis Valera of CBS47 Fresno..




CBS News - Published





11/18: CBSN AM

Four people killed at family gathering in Fresno; Diplomatic posts for sale?




CBS News - Published





Democratic Candidates Swing Through Southern California

Monday: What to know about their stops in L.A. and Long Beach. Also: Updates on a mass shooting in Fresno.




NYTimes.com - Published





4 dead, 6 wounded, manhunt underway in Fresno after 'mass casualty shooting' at football party

Four people were killed and six wounded in what Fresno police described as a "mass casualty shooting" at an outdoor, football watching party.  




USATODAY.com - Published





4 dead and 6 injured after Fresno mass shooting at backyard party

Four people were killed and at least six wounded in Fresno, Calif. on Nov. 17, 2019 in what police are describing as a "mass casualty shooting."  




USATODAY.com - Published





California shooting: 4 killed in backyard gathering ambushed by gunfire

Four people were killed in an ambush-style shooting at a party in California. Investigators say 10 people were shot in a neighborhood in Fresno. The shooting left six people wounded. Jonathan Vigliotti..




CBS News - Published





4 dead, 6 injured in 'mass casualty shooting' at Sunday Night football party in Fresno

Fresno Police are looking for "unknown suspects" who opened fire and killed four people at a Sunday Night Football party in Fresno, California.




USATODAY.com - Published





4 dead, 6 injured after 'unknown suspects' invaded California 'family gathering': What we know

Four people were killed and six people were injured after "unknown suspects" snuck into a "friend and family gathering" in Fresno, Calif, police said.




USATODAY.com - Published




4 killed, 6 wounded in California football party shooting

Four people were killed and six more wounded when "unknown suspects" sneaked into a backyard filled with people at a party in central California and fired into the crowd, police said. The shooting took..




CBS News - Published





Your Monday Briefing

Hong Kong, Fresno, Minnesota Vikings: Here's what you need to know.




NYTimes.com - Published





Manhunt after Fresno mass shooting, Hong Kong protests, Davis Cup: 5 things you need to know Monday

A manhunt is on after four people were killed in a shooting in California, Hong Kong schools close, a new Davis Cup era begins and more news you need to know Monday.




USATODAY.com - Published





Gunman opens fire at California backyard party, four killed: police

Police in the California city of Fresno were investigating a mass shooting at a football game party on Sunday in which at least 10 people were shot, killing four, with five others left in critical..




Reuters - Published




Calif. police: 10 shot, 4 killed at backyard party

Ten people were shot and four of them were killed Sunday at a party in Fresno, California when suspects sneaked into a backyard gathering and fired into the crowd, police said. (Nov. 18)  




USATODAY.com - Published





"Mass casualty shooting" in Fresno, California leaves several dead

Police say people watching football in a backyard were hit by a suspect or suspects who snuck in and opened fire




CBS News - Published





New Video Shows That Fresno Officer Shot Teen as He Fled

The footage has raised concerns about why a routine encounter in California escalated so rapidly, and whether lethal force was justified.




NYTimes.com - Published




Released surveillance: California police justify shooting of 16-year-old boy

Surveillance video released shows a Fresno, California police officer fatally shooting a 16-year-old boy from behind.




USATODAY.com - Published





New video sheds light on deadly Fresno police shooting of unarmed teen suspect

A new surveillance video is shedding light on a deadly 2017 police shooting of Isiah Murrietta-Golding, a teenage murder suspect, as he tried to run away. It shows the 16-year-old climbing a fence then..




CBS News - Published




Original Mouseketeer Karen Pendleton has died from a heart attack at 73

Disney historian and author Lorraine Santoli confirmed to USA TODAY that Pendleton died from a heart attack in Fresno, California, on Sunday.




USATODAY.com - Published





89-year-old civil rights leader Dolores Huerta arrested at California labor protest

The 89-year-old civil rights icon Dolores Huerta was taken away in handcuffs at a Fresno protest Tuesday.  




USATODAY.com - Published





Man dies after taco eating contest at minor league baseball game in Fresno

A 41-year-old man collapsed while competing in a Taco Tuesday contest during a Fresno Grizzlies game and died a short time later.




USATODAY.com - Published





'Pray for baby Fayth': 10-month-old girl shot in head after mom rejects suspected gunman at party, police say

A 10-month-old girl is in critical condition after a California man who Fresno police say has "no regard for human life" shot her in the head.  




USATODAY.com - Published




Buttigieg would vote to impeach Trump and 6 other highlights from the Fresno town hall

Mayor Pete Buttigieg was pushed at an MSNBC town hall to get specific on impeachment, Al Franken and other topics Monday. He also poked fun at Mike Pence.




USATODAY.com - Published