Arctic
Polar region on the Earth's northern hemisphere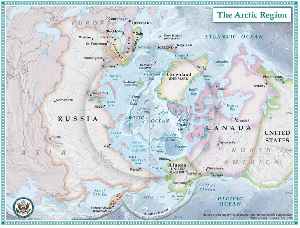 The Arctic is a polar region located at the northernmost part of Earth. The Arctic consists of the Arctic Ocean, adjacent seas, and parts of Alaska, Finland, Greenland (Denmark), Iceland, Northern Canada, Norway, Russia and Sweden. Land within the Arctic region has seasonally varying snow and ice cover, with predominantly treeless permafrost -containing tundra. Arctic seas contain seasonal sea ice in many places.


Varnish and rubber found in Arctic snow, according to study
The study postulated that the pollutants were potentially carried via air
CBS News - Published
Scientists find microscopic plastic particles in Arctic snow
An alarming new study published Wednesday says scientists discovered microscopic particles of plastic in snow from the Alps to the remote regions of the Arctic. The lead scientist of that study, Dr...
CBS News - Published
Bardem takes fight to protect oceans to U.N.
Spanish actor Javier Bardem said during an interview with Reuters on Monday that his experience of traveling through the Antarctic made him realize just how "fragile" the ecosystem is. Bardem later..
Credit: Reuters Studio Duration: 01:33Published
Trump ridiculed for "trying to buy" Greenland
Danish politicians on Friday poured scorn on the notion of selling Greenland to the United States following reports that President Donald Trump had privately discussed the idea of buying the world's..
Credit: Reuters Studio Duration: 01:06Published
Arctic Snow Reveals Dirty Little Secret About Microplastics
High peaks, low valleys, and even the air we breathe is filled with microscopic bits of plastic. Gizmodo Earther reports new research shows that even Arctic ice has microplastics gracing their..
Credit: Wochit News Duration: 00:56Published
'Shock' as scientists find plastic microbeads in remote Arctic ice
Micro-plastic pieces have been found in remote Arctic ice — the latest indication of how far pollution has spread across the planet.
Credit: euronews (in English) Duration: 04:03Published
Russian engineers buried after rocket explosion at Arctic test site
Five Russian engineers that were killed as they tested a rocket have been laid to rest with thousands attending their funerals.
Credit: euronews (in English) Duration: 03:15Published
Ocean Heat Waves Are Becoming More Common
A new study shows climate change is already pushing large portions of the oceans outside their normal bounds. The study was released in the Proceedings of the National Academy of Sciences. The study's..
Credit: Wochit News Duration: 00:33Published
Global warming isn't about 'cycles' now: report
A new report claims that Earth's rapid warming in the late 20th century was far more widespread than any temperature variations during the previous 2,000 years. If true, it would seemingly debunk a..
Credit: Reuters Studio Duration: 01:46Published
There's Been A Heatwave At The Northernmost Settlement On Earth
The northernmost settlement on Earth is experiencing a record heatwave. According to Business Insider, Alert, Canada, is 500 miles from the North Pole. Temperatures reaching an unprecedented 70 degrees..
Credit: Wochit News Duration: 00:43Published
Russia, after three days, says submarine hit by fire was nuclear-powered
Russian President Vladimir Putin disclosed on Thursday for the first time that a top-secret military submarine hit by a fatal fire three days ago was nuclear-powered, prompting Russia's defense..
Credit: Reuters Studio Duration: 01:19Published
Antarctica has lost more ice in four years than the Arctic has in 34 years
Until 2014, Antarctic sea ice levels were actually increasing- but since then according to satellite data, there's been a 'precipitous' nosedive in ice levels. Scientists are now trying to find out..
Credit: euronews (in English) Duration: 03:07Published
'Punch in the gut' as scientists find micro plastic in Arctic ice
Tiny pieces of plastic have been found in ice cores drilled in the Arctic by a U.S.-led team of scientists, underscoring the threat the growing form of pollution poses to marine life in even the..
Reuters - Published
Plastic trash discovered in pristine Arctic snow
We've polluted the deepest oceans with plastic trash, now it's the Arctic's turn: Blown by the wind, 'microplastics' have been discovered there.  
USATODAY.com - Published
Rare lightning strikes 300 miles from North Pole amid hot summer in the Arctic
In an unusual event Saturday evening, multiple lightning strikes were detected within 300 miles of the North Pole, the National Weather Service said.
USATODAY.com - Published
Search this site and the web:
You Might Like