Arctic
Polar region on the Earth's northern hemisphere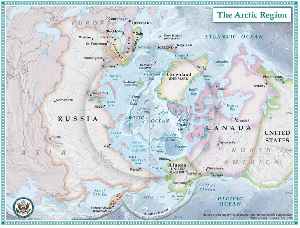 The Arctic is a polar region located at the northernmost part of Earth. The Arctic consists of the Arctic Ocean, adjacent seas, and parts of Alaska, Finland, Greenland (Denmark), Iceland, Northern Canada, Norway, Russia and Sweden. Land within the Arctic region has seasonally varying snow and ice cover, with predominantly treeless permafrost -containing tundra. Arctic seas contain seasonal sea ice in many places.


Amazing photo shows dogs 'sledding on water' amid Greenland ice melt
This stunning photo – taken by scientists on the melting Greenland ice sheet last week – shows how unusually warm it's been in the Arctic.
USATODAY.com - Published
Sled dogs slog through meltwater on Greenland ice sheet
"Challenging conditions" for researchers collecting instruments used to measure sea ice brought on by "very warm conditions" in the Arctic
CBS News - Published
Lost polar bear taken to Siberian zoo to be treated
A famished polar bear picked up this week after it wandered lost into a northern Russian city hundreds of kilometers from its Arctic habitat was taken on Friday to a zoo in the Siberian city of..
Credit: Reuters Studio Duration: 00:45Published
Thousands of Raptor fans jam streets to celebrate first NBA title outside the U.S.
ATTENTION EDITORS: RESENDING WITH FULL SCRIPT VIDEO SHOWS: RAPTORS VICTORY PARADE THOROUGH THE STREETS OF TORONTO SHOWS: TORONTO, CANADA. JUNE 17, 2019 (CBC-NO ACCESS CANADA) 1.ONE OF THE RAPTORS OPEN
Credit: Reuters - Sports Duration: 00:38Published
Maersk explores Arctic shipping route with Russia - Reuters News
Shipping group A.P. Moller-Maersk said on Friday it is in talks with Russia's state-owned icebreaker operator to send more goods via the Arctic, which is becoming more accessible as climate change..
Credit: Reuters Studio Duration: 01:07Published
Canada Cheers Raptors First Title
TORONTO/Rankin Inlet, NUNAVUT (Reuters) - Canadians erupted from coast to coast and all the way up to the Arctic on Thursday as the Toronto Raptors captured their first NBA championship in a country..
Credit: Wochit News Duration: 00:33Published
Russia Looks To Expand Arctic Fleet As Part Of Ambitious New Program
According to a report by Reuters, on Saturday, Russia launched a nuclear powered icebreaker as part of its ambitious program to renew and expand its fleet in order to improve its ability to tap the..
Credit: Wochit News Duration: 00:40Published
Russia, eyeing Arctic future, launches nuclear icebreaker
In a battle to dominate the Arctic seas, Russia launched a nuclear-powered icebreaker on Saturday. Rough cut (no reporter narration).
Credit: Reuters Studio Duration: 01:02Published
Watch: Musicians play ice instruments to raise climate change awareness
The quartet performed in temperatures of -12℃, which might sound cold but last month, the average temperature in the Arctic was 8℃ higher than normal, according to Greenpeace.
Credit: euronews (in English) Duration: 00:20Published
Arctic surfing: Snow, sand and the northern lights
Surfing in one of the coldest beaches in the world has changed a former fishing and farming hamlet.
Credit: Al Jazeera STUDIO Duration: 02:26Published
U.S. Says Melting Arctic Is Helpful For Trade
Gizmodo reports this week the U.S. refused to sign a declaration acknowledging the threat of climate change to the Arctic, in a meeting of the Arctic Council in Rovaniemi, Finland. Radio Free Europe..
Credit: Wochit News Duration: 00:47Published
Arctic Council: US goes cold on climate change agreement
Diplomats from nations bordering the Arctic say the United States' refused to sign an agreement on challenges in the Polar region, because of discrepancies over climate change wording.
Credit: euronews (in English) Duration: 01:46Published
Mike Pompeo Claims Rapidly Melting Arctic Sea Ice As A Good Thing
Secretary of State Mike Pompeo on Monday claimed that melting Arctic sea ice could actually be a good thing, as it will shorten sea voyages from Asia to the West by as much as three weeks. In a speech..
Credit: Wochit News Duration: 00:37Published
'Naked and Afraid' competitor blazes wilderness trail for transgender outdoors people
For Quince Mountain, Arctic dog musher from Wisconsin, survival skills run deeper than building fires
USATODAY.com - Published
Search this site and the web:
You Might Like