Grand Bazaar, Istanbul
Bazaar in Istanbul, Turkey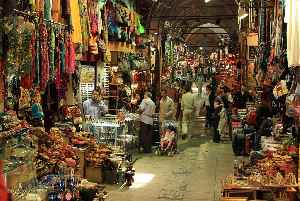 The Grand Bazaar in Istanbul is one of the largest and oldest covered markets in the world, with 61 covered streets and over 4,000 shops on a total area of 30,700 m2, attracting between 250,000 and 400,000 visitors daily. In 2014, it was listed No.1 among the world's most-visited tourist attractions with 91,250,000 annual visitors. The Grand Bazar at Istanbul is often regarded as one of the first shopping malls of the world.


You Might Like
At least 1 dead in Turkey flood
Raging flood waters tore through parts of Turkey. Officials say at least one person was killed. Many shops in Istanbul's historic Grand Bazaar were flooded and some of the merchandise floated away. The..
CBS News - Published
Heavy rains flood Istanbul's historic Grand Bazaar
A car was dragged into a pit caused by a collapsed road but its passengers escaped without injuries
CBS News - Published
Search this site and the web: