Steven Spielberg
American film director and screenwriter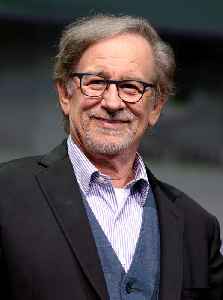 Steven Allan Spielberg is an American filmmaker. He is considered one of the founding pioneers of the New Hollywood era and one of the most popular directors and producers in film history. Spielberg started in Hollywood directing television and several minor theatrical releases. He became a household name as the director of Jaws (1975), which was critically and commercially successful and is considered the first summer blockbuster. His subsequent releases focused typically on science fiction/adventure films such as Close Encounters of the Third Kind (1977), Raiders of the Lost Ark (1981), E.T. the Extra-Terrestrial (1982), and Jurassic Park (1993), which became archetypes of modern Hollywood escapist filmmaking.


Michael Douglas, Catherine Zeta-Jones mourn Kirk Douglas at funeral two days after death
Son Michael Douglas, his wife Catherine Zeta-Jones, director Steven Spielberg are among the mourners at Kirk Douglas' funeral on Friday.
USATODAY.com - Published
10/9/19: CBSN Evening News
Turkey launches airstrikes in Northern Syria; Spielberg releases 'Why We Hate' series
CBS News - Published
"We can unlearn hate": Spielberg and Gibney talk new docuseries
Hollywood legend and Oscar-winning documentarian are behind a powerful new documentary series, "Why We Hate"
CBS News - Published
"Why We Hate": Steven Spielberg and Alex Gibney explore hatred in docuseries
Hollywood legend Steven Spielberg is behind a new documentary series set to air Sunday on Discovery Channel. "Why We Hate" is a six-part series that takes a close look at hatred and how we can..
CBS News - Published
Extended transcript: John Williams on Spielberg, "Star Wars," and the power of music
The composer talks about the all-consuming work of writing music, and why he doesn't watch his films once they're done
CBS News - Published
A shark attack while snorkeling is extremely rare. Tips on how to avoid it
Steven Spielberg's summer blockbuster hit "Jaws" came out 44 years ago. Oh, and it's shark week. There is still a very real public fear of sharks.
USATODAY.com - Published
Treasure trove of "Jaws" photos uncovered
Director Steven Spielberg's thriller about a man-eating great white shark celebrated it's 44th anniversary earlier this week. And with it came a surprising new discovery -- a treasure trove of photos..
CBS News - Published
Apple Reveals Credit Card and TV Streaming Service
by Simon Baxendale - While Apple has partially led the way up till now in terms of modern technology, there has been one major market they haven't tapped into – video streaming. However,..
One News Page Staff - Published
You Might Like