Yucatán Peninsula
Peninsula in North America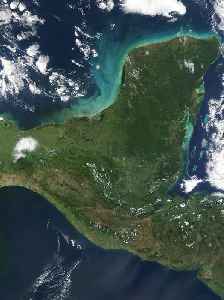 The Yucatán Peninsula, in southeastern Mexico, separates the Caribbean Sea from the Gulf of Mexico, with the northern coastline on the Yucatán Channel. The peninsula lies east of the Isthmus of Tehuantepec, a northeastern geographic partition separating the region of Central America from the rest of North America. It is approximately 181,000 km2 (70,000 sq mi) in area, and is almost entirely composed of limestone.


Mexico uncovers 12,000-year-old underwater mine

Researchers diving into dark submerged caves on Mexico's Yucatan Peninsula have found evidence of an ambitious mining operation dating back 12,000 years, for red ochre, an earth mineral pigment prized..
Credit: Reuters Studio Duration: 01:20
Published
Monster Saharan dust cloud arrives in Mexico

Dusty skies and a strange tint in the air are a sign that the monster Saharan dust cloud has arrived in the coastal towns and beach resorts of Mexico's Yucatan peninsula.
Credit: Reuters Studio Duration: 00:54
Published
You Might Like
Divers uncover mysteries of earliest inhabitants of Americas deep inside Yucatan caves
Thousands of years ago, the first inhabitants of the Americas journeyed deep into caves to mine red ochre, a highly valued clay earth pigment.  
USATODAY.com - Published
New research sheds light on the day the dinosaurs died: "We could have had a very different planet"
For the first time, we have a detailed picture of what happened in the 24 hours after an asteroid hit the Earth 65 million years ago and caused dinosaurs to become extinct. A research team led by the..
CBS News - Published
Rocks discovered from the day the dinosaurs died 66 million years ago when an asteroid hit the Earth
Rocks from the most pivotal moment in Earth's history were discovered offshore of the Yucatan Peninsula, a study says.
USATODAY.com - Published
Massive waves of toxic seaweed inundate Yucatan Peninsula beaches
It is the biggest algae bloom in the world: a 5,000-mile mass of seaweed stretching from Africa to the Caribbean. Across the Yucatan Peninsula, massive waves of the growth, called sargassum, are..
CBS News - Published
Nature up close: Swimming with whale sharks
A meeting with giants off the coast of Mexico's Yucatan Peninsula
CBS News - Published
Mexican police rescue 25 kidnapping victims in Cancun
The police department of Quintana Roo in Mexico's Yucatan Peninsula rescued 25 individuals who had been kidnapped from a Cancun call center, police chief Alberto Capella said Wednesday.
Reuters - Published
Mexican prosecutors investigate potential kidnapping in Cancun
The attorney general of Quintana Roo in Mexico's Yucatan Peninsula said on Wednesday that it is investigating the possible kidnapping of at least 27 people in Cancun.
Reuters - Published
Mexico plans cutbacks to president's flagship 'Mayan Train' project
Mexico will shorten the 1,525-km (948-mile) route for a proposed "Mayan Train" designed to link tourist hot spots and spur development on the Yucatan Peninsula, an official said on Tuesday, in a move..
Reuters - Published