Elizabeth Warren
United States Democratic Senator from Massachusetts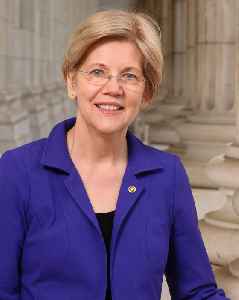 Elizabeth Ann Warren is an American politician and former law professor serving as the senior United States Senator from Massachusetts since 2013. She was formerly a law school professor specializing in bankruptcy law. A member of the Democratic Party and a progressive, Warren has focused on consumer protection, economic opportunity, and the social safety net while in the Senate. She was also a Democratic candidate in the 2020 United States presidential election.


'Enjoy': Trump nixes affordable housing rule in suburbs

[NFA] U.S. President Donald Trump on Wednesday told his supporters in Texas that his administration "ended" an Obama-era rule intended to combat discriminatory housing practices and segregation in..
Credit: Reuters - Politics Duration: 01:44
Published
Pressure among Dems for Biden's running mate pick

[NFA] Democratic presidential candidate Joe Biden is facing pressure from contending groups inside his party as he prepares to interview a shortlist of women for the most important hire of his..
Credit: Reuters - Politics Duration: 01:31
Published
Warren Seen As "Least Acceptable"

Joe Biden has not selected a vice president for his 2020 campaign. He pledged to chose a woman for his ticket. Elizabeth Warren is campaigning hard to be Biden's running mate. But, a new poll of..
Credit: Wochit News Duration: 00:42
Published
Warren Campaign For Veep Spot

Elizabeth Warren wants to be Joe Biden Vice President pick. She's shamelessly campaigning for the spot while the country is struggling with a race war, record unemployment, and a global health crisis...
Credit: Wochit News Duration: 00:36
Published
Who will Joe Biden pick as running mate?

Here are some of the nearly dozen candidates who are likely under consideration, as former Vice President Joe Biden faces fresh calls to choose a black woman as his running mate. Lisa Bernhard reports.
Credit: Reuters Studio Duration: 03:11
Published
You Might Like



Elizabeth Warren's Journey on Race Is a Preview of Her Party's

Going from an all-white sorority member in college to among the most racially progressive white politicians on the national stage, she could help the Biden campaign understand where many voters are..




NYTimes.com - Published





Warren and Booker Press Meatpackers on Exports to China

Senators Elizabeth Warren and Cory Booker questioned how companies could warn of pandemic shortages while exporting record amounts of pork to China.




NYTimes.com - Published





More than 100 liberal activists urge Joe Biden to pick Elizabeth Warren as VP in letter

Jane Fonda is among the 100+ advocates, scholars and celebrities who co-signed a letter urging Joe Biden to pick Sen. Elizabeth Warren as his VP.




USATODAY.com - Published





Elizabeth Warren to Hold Big-Dollar Fund-Raiser for Joe Biden

Ms. Warren, in the mix for the Democratic vice-presidential nomination, had made opposition to fund-raising events with big donors a central part of her own presidential bid.




NYTimes.com - Published





Two Very Different Democrats: What a Biden-Warren Ticket Might Be Like

If Joe Biden selects Elizabeth Warren as his running mate, the ticket would be a marriage of contrasting policy ideas and governing philosophies unlike any in decades.




NYTimes.com - Published





As Biden crafts U.S. coronavirus response proposals, Warren has his ear

Presumptive Democratic U.S. presidential nominee Joe Biden has been speaking regularly with former rival Elizabeth Warren on public health and economic relief ideas as he crafts more ambitious..




Reuters - Published





Sen. Warren on brother's COVID-19 death: 'It just feels like something that didn't have to happen'

"In any other state of the world, I would have been there with him. We all would have been there with him. And instead he was by himself," Warren said.




USATODAY.com - Published





Hillary Clinton to Endorse Joe Biden

The expected announcement by the 2016 Democratic presidential nominee follows ones from Barack Obama, Bernie Sanders and Elizabeth Warren as the party tries to show its unity.




NYTimes.com - Published





Donald Reed Herring, Brother of Elizabeth Warren, Dies From Coronavirus

Mr. Herring, 86, was "charming and funny, a natural leader," Ms. Warren wrote.




NYTimes.com - Published





'I'll miss you dearly': Sen. Warren announces her oldest brother died from coronavirus

"It's hard to know that there was no family to hold his hand or to say 'I love you' one more time," Elizabeth Warren said after her brother's death.




USATODAY.com - Published





Senator Elizabeth Warren's brother dies after contracting the coronavirus

Former Democratic presidential candidate Elizabeth Warren's oldest brother, Donald Reed Herring, died on Tuesday night after contracting the novel coronavirus, she confirmed on Thursday.




Reuters - Published





Senator Warren takes Treasury, Fed to task over 'little oversight' of stimulus programs

U.S. Senator Elizabeth Warren chastised the Federal Reserve and Treasury Department on Thursday over their rollout of massive stimulus programs designed to help businesses weather the global..




Reuters - Published





Elizabeth Warren says she would be Joe Biden's running mate against Trump if asked

"Look, we both want the same thing. We want this country to work and we want it to work for everyone," Warren said of Biden.




USATODAY.com - Published





Elizabeth Warren endorses Joe Biden for president

Warren's backing came a day after former President Barack Obama put his support behind his former running mate and two day after Vermont Sen. Bernie Sanders.




USATODAY.com - Published

Also reported by •NYTimes.com


Any Coronavirus bailout must put workers first: Sen. Elizabeth Warren

The Trump administration's current proposals are sorely inadequate because they contain none of these protections for workers and taxpayers.




USATODAY.com - Published





Biden Running Mate? Party Leaders Favor Former Female Rivals

Discussions with 60 Democratic officials found that three former candidates — Kamala Harris, Elizabeth Warren and Amy Klobuchar — were their leading choices, followed by Stacey Abrams.




NYTimes.com - Published





Biden, Looking to Attract Progressives, Endorses Warren Bankruptcy Plan

The two clashed over bankruptcy policy more than a decade ago. But Joseph R. Biden Jr. now says he supports Elizabeth Warren's plan that allows student debt to be relieved in bankruptcy.




NYTimes.com - Published





Democrat Biden tacks left, backs Warren bankruptcy plan with student loan relief

Democratic presidential hopeful Joe Biden has endorsed former rival Elizabeth Warren's plan to reform consumer bankruptcy laws including allowing relief of student loan debt, incorporating proposals by..




Reuters - Published





Elizabeth Warren Is Unlikely to Endorse Bernie Sanders. Here's Why.

Though Ms. Warren and Mr. Sanders agree on many progressive issues, her campaign has highlighted a rift over how they build political coalitions. And she doesn't think he can win.




NYTimes.com - Published





Not sure why you didn't like Elizabeth Warren? 'It's the ovaries, stupid.'

It appears that our wait to see a woman become president continues. I'm not even a little bit surprised. Here's why.




USATODAY.com - Published





Elizabeth Warren and Kate McKinnon take on 'Flip the Switch' challenge in hilarious TikTok

Elizabeth Warren had a little fun with Kate McKinnon for the 'Flip the Switch' challenge. Jennifer Lopez and Alex Rodriguez have joined in too.




USATODAY.com - Published





Elizabeth Warren is out of the race, but advocates hope her disability plan is the new standard

Elizabeth Warren exited the presidential race this week, but advocates who worked on her disability plan hope it will set a "standard" going forward.




USATODAY.com - Published





Biden Is Back: This Week in the 2020 Race

Joseph R. Biden Jr. won South Carolina and most of the Super Tuesday states, and the race is down to him and Bernie Sanders, after Elizabeth Warren and Michael Bloomberg dropped out.




NYTimes.com - Published





'America Needs Her': Readers React to Elizabeth Warren's Exit

The news led to an outpouring of reactions across America, on social media, and in our comments section.




NYTimes.com - Published





UN gender bias report offers a simple explanation for Elizabeth Warren

On the same day Elizabeth Warren ended her presidential bid, a UN report found about half the world feels men make better political leaders.




USATODAY.com - Published





Colbert explains why today we are all Warren's dog Bailey

Sen. Elizabeth Warren dropped out of the race. The late-night comics react in Best of Late Night.




USATODAY.com - Published





Warren slams 'bullying' Sanders supporters as she exits race, says candidates are responsible for followers' actions

"We are responsible for the people who claim to be our supporters and do really dangerous, threatening things to other candidates," Warren said.




USATODAY.com - Published





Elizabeth Warren's golden retriever steals mouthful of burrito at campaign office

Bailey, Elizabeth Warren's golden retriever, wouldn't let go of a burrito he swiped at a campaign office.




USATODAY.com - Published





Coronavirus, Elizabeth Warren, Syria: Your Friday Briefing

Here's what you need to know.




NYTimes.com - Published





AP Top Stories March 6 A

Here's the latest for Friday March 6th: Cruise ship held off California coast; Trump answers town hall questions; Secret Service says Democratic presidential candidates not asking for protection;..




USATODAY.com - Published




'We persist': Elizabeth Warren says a woman will eventually becoming president

In an interview Thursday, Warren said "It's just going to be a little longer before we're able to have a woman in the White House."




USATODAY.com - Published





Was It Always Going to Be the Last Men Standing?

For Elizabeth Warren, the historic number of women in the 2020 field and the Democrats who supported them, the question will linger.




NYTimes.com - Published





'We are all Bailey': Elizabeth Warren's dog goes viral after stealing a burrito

Twitter users were quick to show Bailey some love after he "stole" a burrito from someone at his mom's campaign HQ.




USATODAY.com - Published





Warren ends White House bid, leaving Biden and Sanders to fight for Democratic nod

Elizabeth Warren ended her presidential campaign on Thursday after concluding she had no realistic path to the Democratic nomination, leaving behind a two-man battle between former Vice President Joe..




Reuters - Published




Elizabeth Warren and the Curse of 'Electability'

There are many reasons for Warren dropping out. But a key one may have been the near-constant refrains about her "electability."




NYTimes.com - Published





'Element of misogyny': Pelosi, others, lament that Warren exit leaves presidential race to men

Four years after Hillary Clinton's loss, the exits of Elizabeth Warren and other female candidates ensures it will at least four more years until a woman can win the White House.




USATODAY.com - Published





Will Elizabeth Warren Endorse a Candidate? She Has a Few Options

Ms. Warren's support is being sought by both Bernie Sanders and Joe Biden, and her political future is of great interest to Democrats.




NYTimes.com - Published





Elizabeth Warren's exit doesn't mean Bernie Sanders gets her progressive supporters, experts say

Elizabeth Warren's departure means the only female running for president is Hawaii Rep. Tulsi Gabbard, who has won one of the 1,284 delegates awarded.




USATODAY.com - Published





Warren ends campaign, holding off on endorsement

Elizabeth Warren says she will not be running for president in 2020 but guarantees that she will stay in the fight. Warren said she'd likely endorse one of the two major candidates left in the race,..




USATODAY.com - Published





Warren, Klobuchar, Harris, Gillibrand: Did gender sink Democratic women in 2020? Nope.

Elizabeth Warren is a disrupter at a time when many voters are exhausted by Donald Trump and looking for salve. That is why the odds are on Joe Biden




USATODAY.com - Published





Elizabeth Warren ends 2020 Democratic White House bid, says 'we will persist'

Elizabeth Warren, the liberal firebrand who emerged as a top Democratic contender for the White House on the strength of an anti-corruption platform backed by a dizzying array of policy proposals,..




Reuters - Published




Factbox: Three remain in hunt for U.S. Democratic presidential nomination

The field of candidates seeking the U.S. Democratic presidential nomination shrank to three on Thursday as U.S. Senator Elizabeth Warren of Massachusetts ended her bid after failing to win her home..




Reuters - Published





Elizabeth Warren Ends 2020 Presidential Campaign: Live Updates

Ms. Warren, a senator and former law professor, staked her campaign on fighting corruption and changing the rules of the economy.




NYTimes.com - Published





Liberal firebrand Elizabeth Warren to end 2020 Democratic White House bid: source

U.S. Senator Elizabeth Warren, the liberal firebrand who emerged as a top Democratic contender for the White House on the strength of an anti-corruption platform backed by a dizzying array of policy..




Reuters - Published




After Mounting Losses, Elizabeth Warren Reviews Her Options

Ms. Warren's failure to finish in the top two in any Super Tuesday state left her with microscopic chances of success. Her campaign said she was weighing her next move.




NYTimes.com - Published





Warren has the chance to unite the left by endorsing Sanders. She should take it.

It isn't just Bernie Sanders' supporters who say there's no path to the nomination for Elizabeth Warren. It's not sexism, either. It's math.




USATODAY.com - Published





Democrat Warren reassessing path forward after disappointing 'Super Tuesday,' campaign aide says

Democratic presidential candidate Elizabeth Warren is "talking to her team to assess the path forward," a campaign aide said on Wednesday, after the U.S. senator from Massachusetts saw disappointing..




Reuters - Published





How Joe Biden and Bernie Sanders dominated the Super Tuesday results - live updates

Super Tuesday lived up to the hype with Joe Biden and Bernie Sanders battling all night. Michael Bloomberg and Elizabeth Warren face tough path ahead.




USATODAY.com - Published