NBCUniversal
American media and entertainment company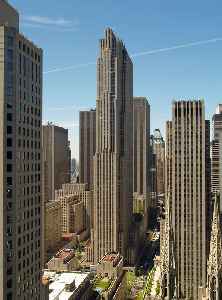 NBCUniversal Media, LLC is an American worldwide mass media conglomerate owned by Comcast and headquartered at Rockefeller Plaza's Comcast Building in Midtown Manhattan, New York City. It is one of two successor companies to MCA Inc., the other being Vivendi through its subsidiary Universal Music Group.


NBCUniversal will free ex-employees from confidentiality agreements to speak on harassment
NBCUniversal will release former staffers from their confidentiality agreements should they choose to disclose sexual harassment while at NBC News.
USATODAY.com - Published
Ronan Farrow: NBC Universal CEO warned about sex harassment "culture"
Ronan Farrow says in new book NBCUniversal's CEO heard about sexual abuse problems long before Matt Lauer was fired
CBS News - Published
Deval Patrick Enters 2020 Democratic Race
Former Massachusetts Gov. Deval Patrick will test the waters in the 2020 Democratic presidential primary race. He joins as crowded field with Joe Biden, Bernie Sanders, and Elizabeth Warren. CNBC..
Credit: Wochit News Duration: 00:31Published
Trump To Confront Turkey's President
A senior White House official said President Donald Trump will confront President Rcept Tayyip Erdogan. They said it refers to Turkey's decision to defy NATO and buy a Russian air defense system...
Credit: Wochit News Duration: 00:32Published
Chris Murphy Claims Quid Pro Quo Arrangement Between Ukrainian Officials And Trump
Sen. Chris Murphy said there was "no doubt" Ukraine felt pressure from the U.S. He said Ukraine felt the need to conform to President Donald Trump's wishes. According to Politico, Murphy said..
Credit: Wochit News Duration: 00:32Published
Jerry Seinfeld Defeats Lawsuit Claiming He Stole 'Comedians in Cars'
Jerry Seinfeld has defeated a lawsuit claiming he stole the Netflix hit "Comedians in Cars Getting Coffee". Former colleague Christian Charles said he had pitched the idea for the show a decade..
Credit: Wochit News Duration: 00:42Published
JLo Launches Promise, Her 25th Fragrance
Jennifer Lopez is going to play the Super Bowl Half Time Show, may win an oscar, and now... She is releasing her 25th fragrance, according to reports at Allure.com. Glow, her first fragrance, was one..
Credit: Wochit News Duration: 00:42Published
Republican Contenders For 2020 Presidency Agree To Impeach Trump
Two of the three Republicans going against President Donald Trump for the GOP nomination support impeaching him. Joe Walsh and Bill Weld made their comments as the U.S. House of Representatives..
Credit: Wochit News Duration: 00:32Published
NBCUniversal names streaming service 'Peacock,' to launch in 2020
Comcast Corp's NBCUniversal will name its upcoming streaming service "Peacock," the company said on Tuesday. Lisa Bernhard has more.
Credit: Reuters Studio Duration: 01:29Published
'The Big Bang Theory' and 'Parks and Recreation' find new streaming homes
Upcoming streaming services battle over rights to hit sitcoms, while NBC Universal announces new programming and a name: Peacock
USATODAY.com - Published
NBCUniversal files motion to dismiss defamation lawsuit filed by Nick Sandmann
The NBCUniversal request in the case of the Covington Catholic student follows the recent dismissal of a similar lawsuit against the Washington Post.
USATODAY.com - Published
Disney's Buyout of 21st Century Fox Completes - At $71 Billion
by Graham Pierrepoint - It's been widely regarded as one of the biggest entertainment acquisitions and mergers of recent years, and following months of hype and speculation, The Walt Disney..
One News Page Staff - Published
Search this site and the web:
You Might Like