Peggy Whitson
American biochemistry researcher and NASA astronaut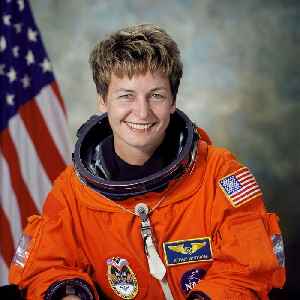 Peggy Annette Whitson is an American biochemistry researcher, retired NASA astronaut, and former NASA Chief Astronaut. Her first space mission was in 2002, with an extended stay aboard the International Space Station as a member of Expedition 5. Her second mission launched October 10, 2007, as the first female commander of the ISS with Expedition 16. She was on her third long-duration space flight and was the commander of the International Space Station for Expedition 51, before handing over command to Fyodor Yurchikhin on June 1, 2017.


Retired NASA astronaut Peggy Whitson on significance of Apollo 11
On the 50th anniversary of the historic Apollo 11 launch, retired NASA astronaut Peggy Whitson joined CBSN from the Kennedy Space Center to talk about the moon landing's legacy.
CBS News - Published
Special Report: 50th anniversary of Apollo 11 launch
It's been exactly 50 years since the U.S. launched Apollo 11, the first mission to land men on the moon. Tony Dokoupil anchors a CBS News Special Report from the Kennedy Space Center with astronaut..
CBS News - Published
Peggy Whitson's advice to aspiring astronauts: "Live outside what's comfortable"
Former NASA astronaut Peggy Whitson first dreamed of going to space when she saw Neil Armstrong take the first step on the moon. Whitson spent a record 665 days in space. That's more than any other..
CBS News - Published
How 10 years of applying to be an astronaut prepared Peggy Whitson to make history
Whitson spent 665 days in space – more time than any other American
CBS News - Published
Search this site and the web:
You Might Like