Stanley Cup
Championship trophy awarded annually in the National Hockey League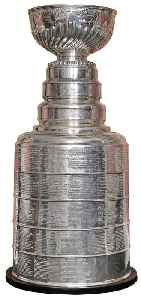 The Stanley Cup is the championship trophy awarded annually to the National Hockey League (NHL) playoff winner. It is the oldest existing trophy to be awarded to a professional sports franchise, and the International Ice Hockey Federation (IIHF) considers it to be one of the "most important championships available to the sport". The trophy was commissioned in 1892 as the Dominion Hockey Challenge Cup and is named after Lord Stanley of Preston, the Governor General of Canada who donated it as an award to Canada's top-ranking amateur ice hockey club. The entire Stanley family supported the sport, the sons and daughters all playing and promoting the game. The first Cup was awarded in 1893 to Montreal Hockey Club, and winners from 1893 to 1914 were determined by challenge games and league play. Professional teams first became eligible to challenge for the Stanley Cup in 1906. In 1915, professional ice hockey organizations National Hockey Association (NHA) and the Pacific Coast Hockey Association (PCHA) reached a gentlemen's agreement in which their respective champions would face each other annually for the Stanley Cup. It was established as the de facto championship trophy of the NHL in 1926 and then the de jure NHL championship prize in 1947.


NHL playoffs have often been tilted by controversial calls: Here are some of the most memorable
Officiating decisions have drawn criticism in 2019 NHL playoffs, but Brett Hull's illegal foot-in-the-crease goal decided a Stanley Cup championship.
USATODAY.com - Published
NHL playoff beard tradition: Throw away the razors and let the razzing begin
Growing an NHL playoff beard is a time-honored tradition during the quest for the Stanley Cup; so is teasing players about their poor facial hair.
USATODAY.com - Published
Can Anything Stop Tampa Bay From Winning the Stanley Cup?
The Tampa Bay Lightning are the heavy title favorites heading into the NHL playoffs, but will they take home Lord Stanley's cup? SI senior writer Alex Prewitt joins SI Now to discuss what, if anything,..
Credit: Sports Illustrated Duration: 01:16Published
Fresh teams pave way for new breakout stars in NHL playoffs
Fresh teams in the NHL's conference finals have paved the way for another generation of breakout stars in the Stanley Cup playoffs
USATODAY.com - Published
Search this site and the web:
You Might Like