Wi-Fi
Wireless local area networks technology based on IEEE's 802.11 standards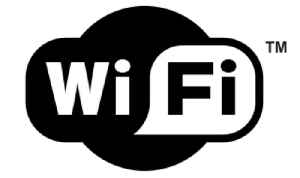 Wi-Fi is a family of wireless network protocols, based on the IEEE 802.11 family of standards, which are commonly used for local area networking of devices and Internet access. Wi‑Fi is a trademark of the non-profit Wi-Fi Alliance, which restricts the use of the term Wi-Fi Certified to products that successfully complete interoperability certification testing. As of 2017, the Wi-Fi Alliance consisted of more than 800 companies from around the world. As of 2018, over 2.97 billion Wi-Fi enabled devices shipped globally each year. Devices that can use Wi-Fi technologies include personal computer desktops and laptops, smartphones and tablets, smart TVs, printers, smart speakers, cars, and drones.


You Might Like
Girls Who Needed Taco Bell Wi-Fi Will Use GoFundMe Money Wisely
The little girls who had to use a Taco Bell's Wi-Fi for school have been blessed with thousands of dollars in donations -- money that'll be put to good use ... TMZ has learned. Jackie Lopez, the woman..
TMZ.com - Published
More than $130K raised for California family after girls seen using Taco Bell WiFi for school work
A now-viral photo of two young students using the free WiFi in a Taco Bell parking lot for online learning highlights unequal access to internet.
USATODAY.com - Published
Little Girls Use Taco Bell's Wi-Fi for School, Almost Get Taken from Mom
A Taco Bell proved critical for two little girls who were briefly using its Wi-Fi for school -- something that almost proved tragic after the kids were nearly taken from their mother. A photo of two..
TMZ.com - Published
Need access to Wi-Fi? There are more options than ever
Check your coverage map before you leave the house looking for WiFi, as there may be a free hot spot awaiting you.
USATODAY.com - Published
Desperate for Wi-Fi, Many Have Nowhere to Go but a Parking Lot
With cafes and libraries closed, Americans without internet access are sitting outside them to get free and fast connections.
NYTimes.com - Published
Coronavirus made working from home the new normal. So the FCC is giving us a new Wi-Fi lane
The need for workers to stay home during the coronavirus pandemic has persuaded the FCC to expand the WiFi spectrum for the first time in 20 years.
USATODAY.com - Published
Is your home Wi-Fi slow? Bolster your connectivity with a mesh system
If you live in a larger home or apartment, or if your primary internet access device doesn't have built-in Wi-Fi, you're going to want a mesh system.
USATODAY.com - Published
Internet Providers Won't Cut Off Users Over Unpaid Bills for 60 Days
The pledge some companies took, in the face of the coronavirus pandemic, also calls for them to open public Wi-Fi hot spots and waive late fees, the F.C.C. said.
NYTimes.com - Published
For $10 fee, startup offers unlimited calls and texts
You don't need to be in WiFi range to make free calls or text messages with TextNow. Catches: Calls are ad-supported and you need Sprint phone.
USATODAY.com - Published
U.S. telecoms, traffic agencies clash on plan to use some auto safety spectrum for Wi-Fi
The U.S. telecommunications regulator voted on Thursday to advance a plan to split a key spectrum block set aside for auto safety to accommodate the burgeoning number of wireless devices, but the..
Reuters - Published
WiFi can be a free-for-all for hackers. Here's how to stop them from taking your data
It's easy to hop on Wi-Fi networks while you're out, but you are opening yourself – and your data – up to unknown attacks. Try these four suggestions.
USATODAY.com - Published
Forget Tanning Beds. College Students Today Want Uber Parking.
Student housing is shifting away from recreational dazzle and toward amenities that reflect the gig economy: stronger Wi-Fi, room for collaboration and 3-D printers.
NYTimes.com - Published