Milwaukee
Largest city in Wisconsin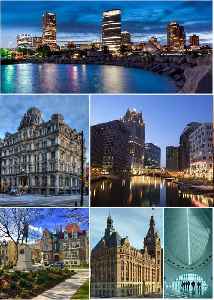 Milwaukee is the largest city in the state of Wisconsin and the fifth-largest city in the Midwestern United States. The seat of the eponymous county, it is on Lake Michigan's western shore. Ranked by its estimated 2014 population, Milwaukee was the 31st largest city in the United States. The city's estimated population in 2017 was 595,351. Milwaukee is the main cultural and economic center of the Milwaukee metropolitan area which had a population of 2,043,904 in the 2014 census estimate. It is the second-most densely populated metropolitan area in the Midwest, surpassed only by Chicago. Milwaukee is considered a Gamma global city as categorized by the Globalization and World Cities Research Network with a regional GDP of over $105 billion.


A woman's car was stuck on train tracks. A bus driver and passengers stepped in to help
A Milwaukee bus driver and her passengers stopped to help a driver stuck in the snow in the middle of train tracks.
USATODAY.com - Published
High school students taunt rival basketball player with image that resembled blackface
Milwaukee-area high school students taunted a rival basketball star during a game with an image that resembled blackface.
USATODAY.com - Published
Freezing Temperatures Put a Stop To Mail Delivery
The frigid temeratures rocking serveal parts of the nation has put a stop to mail deilivery. Business Insider reports that Amazon and UPS are suspending package deliveries in several states due to the..
Credit: Wochit News Duration: 00:43Published
Heroic bus driver rescues unattended baby in Milwaukee
CCTV recording released by Milwaukee County Transit System shows a bus driver running to the rescue of a baby girl who was found wandering on a street in Wisconsin's largest city last month.
Credit: Reuters Studio Duration: 01:04Published
Wisconsin GOP lawmakers force Colin Kaepernick's name out of Black History resolution
Colin Kaepernick, a Milwaukee native, was included in a Wisconin resolution of prominent black Americans to be honored, but Republicans objected.
USATODAY.com - Published
$1M bond set in fatal shooting of Milwaukee police officer
Matthew Rittner, 35, was the third Milwaukee officer killed in the line of duty in eight months when suspect Jordan Fricke opened fire as officers served a warrant
CBS News - Published
Appleby lifts Cleveland State over Milwaukee 78-68
Tyree Appleby records a triple-double with 19 points, 11 rebounds and 11 assists to lead Cleveland St. to a 78-68 win over Milwaukee
USATODAY.com - Published
Matthew Rittner, Milwaukee police officer shot and killed, served two tours of duty in Iraq
MPD Officer Matthew Rittner, who was killed Wednesday, was not afraid to face danger, whether on the dusty roads of Iraq or the streets of Milwaukee.
USATODAY.com - Published
Third Milwaukee officer killed since June
A 17-year police veteran was shot and killed as he served a warrant on the Milwaukee's south side Wednesday, becoming the city's third officer killed in the line of duty in eight months. (Feb. 6)
USATODAY.com - Published
You Might Like