Milwaukee
Largest city in Wisconsin, United States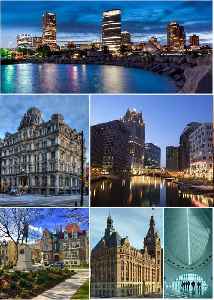 Milwaukee is the largest city in the state of Wisconsin and the fifth-largest city in the Midwestern United States. The seat of the Milwaukee County, it is on Lake Michigan's western shore. Ranked by its estimated 2018 population, Milwaukee was the 31st largest city in the United States. The city's estimated population in 2019 was 590,157. Milwaukee is the main cultural and economic center of the Milwaukee metropolitan area which had a population of 2,043,904 in the 2014 census estimate. It is the fourth-most densely populated metropolitan area in The Midwest, surpassed only by Chicago, Minneapolis-St. Paul and Detroit, respectively. Milwaukee is considered a Gamma global city as categorized by the Globalization and World Cities Research Network with a regional GDP of over $105 billion.


Democrats Plan Virtual Convention

On Wednesday, Democrats said they will hold an almost entirely virtual presidential nominating convention Aug. 17-20 in Milwaukee. Joe Biden plans to accept the presidential nomination in person...
Credit: Wochit News Duration: 00:29
Published
Ruth the elephant loves breaking wood

An African female elephant finds joy in breaking and sometimes eating wood
Credit: Reuters - Viral Video Duration: 00:28
Published
Trump to accept Republican nomination in Florida

U.S. President Donald Trump will accept the Republican presidential nomination in Jacksonville, Florida this summer. Gloria Tso reports.
Credit: Reuters - Politics Duration: 00:50
Published
You Might Like



Friday's Cardinals-Brewers game in Milwaukee postponed after St. Louis player tests positive for COVID-19

Friday's game between the St. Louis Cardinals and the Milwaukee Brewers has been postponed after a member of the Cardinals tested positive.




USATODAY.com - Published





Democrats set schedule for Aug. 17-20 national convention in Milwaukee

Democrats will meet for two hours nightly when they stage their national convention next month in Milwaukee.




USATODAY.com - Published





Wisconsin US attorney releases info about agents

The U.S. attorney in Milwaukee is trying to quell concerns about federal agents headed there, saying they will work side-by-side with task forces long-term and not break up protests. The effort will..




USATODAY.com - Published





Federal agents and officers head to Detroit, Cleveland, Milwaukee as Operation Legend expands

The expansion comes as state and local officials, drawing from the unrest in Portland, are increasingly skeptical of federal deployments to their cities.




USATODAY.com - Published





Police departments withdraw from security agreements for Democratic convention, some citing directive on crowd munitions

Some of departments cited orders to Milwaukee's police chief to cease the use of tear gas and pepper spray during demonstrations.




USATODAY.com - Published





DNC chair Tom Perez reaffirms Democrats' plans for Milwaukee convention after Trump cancels Jacksonville event

Democrats will hold a mostly virtual event, Aug. 17-20, with delegates voting remotely to nominate Joe Biden, who intends to be in Milwaukee.




USATODAY.com - Published





Inside the Shrinking 2020 Democratic Convention in Milwaukee

An event that was once expected to draw 50,000 people to Milwaukee may now involve just 300, with plans still far from settled a month before the convention.




NYTimes.com - Published





Democratic Officials Tell Members of Congress to Skip the Convention

The directive ensures that little will happen at the convention in Milwaukee beyond speeches by former Vice President Joseph R. Biden Jr., his vice-presidential nominee and a handful of other top party..




NYTimes.com - Published





Parties? Canceled. Protests and Joe Biden? Still on. What we know (and don't) about the DNC in Milwaukee

The scale, shape and content of DNC in Milwaukee remain in flux as organizers prepare for the Aug. 17-20 event during the coronavirus pandemic.




USATODAY.com - Published





A 'moral obligation': Milwaukee pushes to end hyper segregation in schools

Board members hope to engage the broader community in developing a plan to desegregate schools and reduce inequities among schools across the region.




USATODAY.com - Published





Fireworks complaints are skyrocketing in New York City, soaring in San Francisco and up 600% in Milwaukee. But, why?

An increase in fireworks complaints across the U.S. has generated a buzz on social media, with many users asking for an explanation. What's going on?




USATODAY.com - Published




Organizers are scrambling to plan an unprecedented virtual gathering for the 2020 DNC

Democrats have less than two months to put together an unprecedented and unconventional national convention in Milwaukee.




USATODAY.com - Published





DNC announces sweeping changes to convention, but Biden will still accept nomination in Milwaukee

Even as Democrats downsize their convention they say former Vice President Joe Biden will still formally accept the nomination in Milwaukee.




USATODAY.com - Published





Madison protesters tear down Capitol statues, attack state Senator from Milwaukee as fury erupts again

A statue of Col. Christian Heg, an abolitionist, was thrown into a Madison lake, and State Sen. Tim Carpenter was attacked by a group of protesters.




USATODAY.com - Published




Faced with coronavirus, Republican and Democratic leaders overhaul convention plans

While Donald Trump will have the big "celebration" he wanted in Jacksonville, Democrats could choose a hybrid approach in Milwaukee.




USATODAY.com - Published





Time-lapse shows remnants of storm Cristobal moving over Milwaukee

The remnants of Tropical Storm Cristobal passed through Milwaukee, Wisconsin, on June 9.




USATODAY.com - Published





Giannis Antetokounmpo, Bucks march with Milwaukee protesters: 'We want change. We want justice'

The reigning NBA MVP told the crowd: "I want my kid to grow up here in Milwaukee, and not to be scared to walk in the streets."




USATODAY.com - Published





Summerfest canceled over coronavirus concerns, Dave Matthews Band and others to play in 2021

For the first time in its history, there will be no Summerfest in Milwaukee. But some acts booked for 2020 will perform in 2021.




USATODAY.com - Published





Milwaukee crowd protests Floyd's death

People gathered Friday at the Wisconsin Black Historical Society in Milwaukee to protest George Floyd's killing in Minneapolis. (May 29)  




USATODAY.com - Published





A virtual convention? Democrats weigh political challenges in the face of coronavirus

Many party insiders expect a hybrid event, where some but not all delegates will travel to Milwaukee and some but not all speakers will appear before a live audience.




USATODAY.com - Published





Oprah gives $12M to 'home' cities during pandemic

Media icon Oprah Winfrey has announced she'll give grants to organizations helping underserved communities in cities she's lived in - Chicago; Baltimore; Nashville, Tennessee; Milwaukee; and Kosciusko,..




USATODAY.com - Published





'The new way': Milwaukee businesses pivot by selling care packages, virtual events to survive the coronavirus pandemic

Businesses that are based around gathering people together for a tour, a game, travel or a conference are finding new ways to earn during COVID-19.




USATODAY.com - Published





If Democrats Hold a Big Convention, Will Anybody Come?

The Times interviewed 59 delegates who will help nominate Joe Biden. Most said they don't want to risk their own health, or the health of others, by attending a full-scale convention in Milwaukee.




NYTimes.com - Published





Seven confirmed COVID-19 cases linked to Wisconsin's April elections

At least seven people contracted the coronavirus during Wisconsin's primary election on April 7, Milwaukee health officials said on Tuesday, confirming fears that holding in-person voting during the..




Reuters - Published




Coronavirus in Wisconsin: At Least 7 Cases Tied to Election Day Voting

Milwaukee health officials said six voters and one poll worker contracted the coronavirus from participating in Election Day, which was held despite a stay-at-home order issued throughout the state.




NYTimes.com - Published





Democrats might need 'creative' alternatives to a convention in August, former DNC chair says

Democratic Party insider Terry McAuliffe said he believes it's "very unlikely" there will be a Democratic National Convention in Milwaukee this year.




USATODAY.com - Published





Some Wis. voters accept ballots won't be counted

A Milwaukee election official says many voters said they did not receive their requested absentee ballots and because they're unwilling to violate a stay-at-home order to vote in person, have accepted..




USATODAY.com - Published





They Turned Out to Vote in Wisconsin During a Health Crisis. Here's Why.

Voters in Milwaukee and across the state braved long lines and a risk of illness. Many said they wanted their voices to be heard. But for some, the potential health risk was too great.




NYTimes.com - Published





Democratic Convention Planners Look at Contingency Options

The coronavirus crisis has created uncertainty about whether the gathering, scheduled for mid-July in Milwaukee, can still take place.




NYTimes.com - Published





'I didn't really believe it at first:' How the Molson Coors shooting in Milwaukee unfolded

Employees huddled in a closet. Dispatchers directed emergency responders. Hospital trauma teams awaited casualties.  




USATODAY.com - Published





'Miller Strong' shirts support brewery workers

Milwaukee t-shirt company creates "Miller Strong" shirts for employees and families affected by brewery shooting that left six dead, including the shooter.  (Feb. 28)  




USATODAY.com - Published





Coronavirus fears prompt Russia to withdraw from World Cup gymnastics events in Milwaukee, Tokyo

Long trip to U.S. was a factor in Russia gymnastics' decision to withdraw from American Cup next weekend in Milwaukee due to coronavirus fears.




USATODAY.com - Published





The five men who died together when a co-worker opened fire in Milwaukee have been identified

The five co-workers killed in Molson Coors shooting were power house operators, machinists and electricians, Milwaukee police said.




USATODAY.com - Published





Here's what we know about the five co-workers killed in Milwaukee Molson Coors shooting

The five co-workers killed in Molson Coors shooting were power house operators, machinists and electricians, Milwaukee police said.  




USATODAY.com - Published





Police identify victims, shooter in Milwaukee brewery shooting rampage

Police in Milwaukee on Thursday identified the five brewery employees shot and killed by a co-worker who later took his own life in the latest spasm of gun violence plaguing U.S. workplaces and..




Reuters - Published





Police ID brewery shooter as 15-year electrician

Police have identified the man who gunned down five co-workers at Molson Coors brewery as 51-year-old Anthony Ferrill of Milwaukee. Ferrill's neighbors have said he worked at the brewery complex for 15..




USATODAY.com - Published





Milwaukee police identify the five victims of Molson Coors shooting

Milwaukee police today identified the five victims of the Molson Coors shooting as well as the gunman, who took his own life.




USATODAY.com - Published




Shooter at Milwaukee Molson Coors had a long-running dispute with a co-worker, law enforcement source says

The Molson Coors shooter had been involved in a dispute with a co-worker that boiled over, according to a law enforcement source.




USATODAY.com - Published




Milwaukee looks for motive in brewery shooting rampage

Investigators in Milwaukee were searching on Thursday for a motive behind the fatal shooting of five brewery employees by a co-worker who later took his own life in the latest spasm in a wave of gun..




Reuters - Published





What We Know About the Molson Coors Shooting in Milwaukee

The gunman and the five people he killed were all employees of the brewery.




NYTimes.com - Published





Coronavirus, Democrats, Milwaukee: Your Thursday Briefing

Here's what you need to know.




NYTimes.com - Published





U.S. brewery shooting could spur gun debate in presidential race

A Molson Coors Beverage Co employee has shot five co-workers to death before taking his own life at the company's beer-brewing complex in Milwaukee, the latest episode in a rising tide of gun violence..




Reuters - Published





AP Top Stories February 27 A

Here's the latest for Thursday February 27th: US coronavirus case apparently not linked to travel; Milwaukee gunman kills 5 & self; Explosives used to build border wall on land considered sacred by..




USATODAY.com - Published





'Milwaukee is grieving': What we know about Molson Coors shooting

The Wednesday shooting left Milwaukee in mourning, with Mayor Tom Barrett calling it the "saddest day" in the 165-year history of the "Miller Valley."




USATODAY.com - Published




Gunman kills five co-workers and himself in Molson Coors brewery shooting in Milwaukee

A gunman opened fire at the Molson Coors Beverage Co brewing complex in Milwaukee on Wednesday, killing five co-workers before he was found dead from an apparently self-inflicted gunshot wound, the..




Reuters - Published





Gunman kills 5, self at Milwaukee brewery complex

After a shooting at Milwaukee's Molson Coors brewery complex killed six employees, including the gunman, a nearby bar opened its doors to the evacuated workers. (Feb. 26)  




USATODAY.com - Published





Six people dead, including gunman, in Molson Coors brewery shooting in Milwaukee

A gunman opened fire at the Molson Coors Beverage Co brewing complex in Milwaukee on Wednesday, killing five employees before he was found dead from an apparently self-inflicted gunshot, the city's..




Reuters - Published





Trump sends condolences for Milwaukee shooting

U.S. President Donald Trump has extended his "deepest condolences" to the victims and families in Milwaukee, Wisconsin. (Feb. 26)




USATODAY.com - Published