Milwaukee
Largest city in Wisconsin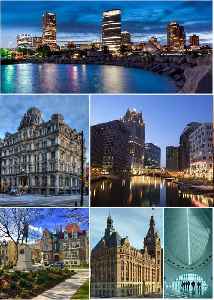 Milwaukee is the largest city in the state of Wisconsin and the fifth-largest city in the Midwestern United States. The seat of the eponymous county, it is on Lake Michigan's western shore. Ranked by its estimated 2014 population, Milwaukee was the 31st largest city in the United States. The city's estimated population in 2017 was 595,351. Milwaukee is the main cultural and economic center of the Milwaukee metropolitan area which had a population of 2,043,904 in the 2014 census estimate. It is the second-most densely populated metropolitan area in the Midwest, surpassed only by Chicago. Milwaukee is considered a Gamma global city as categorized by the Globalization and World Cities Research Network with a regional GDP of over $105 billion.


Raptors even Eastern Conference finals with blowout Game 4 win over Bucks
The Eastern Conference finals is tied 2-2 heading back to Milwaukee after the Raptors won Game 4 vs. the Bucks 120-102 on Tuesday.
USATODAY.com - Published
Brewers' Christian Yelich scratched due to back spasms
NL MVP Christian Yelich was scratched from Milwaukee's lineup against Cincinnati on because of back spasms
USATODAY.com - Published
Should the Bucks Sit Giannis Antetokounmpo for the Rest of the Regular Season?
On Thursday night, Bucks star Giannis Antetokounmpo left Milwaukee's win over the Clippers with an ankle injury. SI Now's Robin Lundberg and Ryan Asselta wonder if the team should keep the Greek Freak..
Credit: Sports Illustrated Duration: 01:47Published
Raptors capture pivotal Game 3 victory over Bucks
SportsPulse: USA TODAY Sports' Jeff Zillgitt and Milwaukee Sentinel Journal's Matt Velazquez break down the importance of Toronto's Game 3 victory over Milwaukee.
USATODAY.com - Published
Milwaukee radio station bans Drake music for Bucks-Raptors series
Grammy-winning rapper and Toronto Raptors ambassador Drake is one of the most popular musicians on the planet, but right now, that means nothing.
USATODAY.com - Published
Gonzalez effective again, pitches Brewers past Phillies 5-2
Gio Gonzalez continued to make the most of his second stint in Milwaukee, allowing one run while pitching into the sixth inning as the Milwaukee Brewers beat the Philadelphia Phillies 5-2
USATODAY.com - Published
How doulas are helping one city lower its high rate of black infant deaths
Milwaukee's black infant mortality rate is higher than the U.S. rate. Doulas, or pregnancy and birth coaches, are volunteering to change that.
USATODAY.com - Published
Sea of officers stand in silent, shoulder-to-shoulder tribute to honor fallen heroes
Milwaukee police are still heartbroken over the loss of three of their own in the line of duty this past year. This Police Week, they're not alone.
USATODAY.com - Published
Milwaukee Greeks rally behind Bucks' Antetokounmpo
The Bucks' NBA playoff run has Milwaukee buzzing with anticipation that the team could win its first title since 1971. Particularly interested is the Greek community, which has rallied around star..
USATODAY.com - Published
Bucks have Milwaukee dreaming of first title since '71
The Milwaukee Bucks' championship run has the city buzzing with anticipation that the team has a chance to win their first title since 1971
USATODAY.com - Published
You Might Like