Michelle Obama
Lawyer, writer and former First Lady of the United States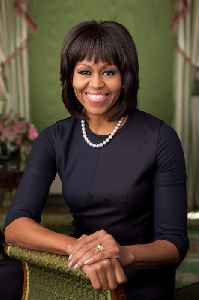 Michelle LaVaughn Robinson Obama is an American writer, lawyer, and university administrator who was First Lady of the United States from 2009 to 2017. She is married to the 44th U.S. President, Barack Obama, and was the first African-American First Lady.


Michelle Obama opens up about the Sandy Hook shooting
In her new memoir, "Becoming," Former First Lady Michelle Obama opened up about the day of 2012 Sandy Hook Massacre. Veuer's Natasha Abellard has the story.
USATODAY.com - Published
At Michelle Obama's former aide's urging, prosecutor pushed for FBI to investigate Smollett
At the time of the correspondence, Smollett was still considered by police as a victim of an assault. The actor was later charged with allegedly staging an attack to make him look like the victim of a..
USATODAY.com - Published
Barack Obama Manages to Work in Michelle Obama in a Discussion About 'Being a Man'
Former President Barack Obama teamed up with Golden State Warrior star Stephen Curry to encourage the audience of young African-American men to focus on their own self-confidence as the path to true..
Credit: Time Duration: 01:52Published
Obama Won't Make 2020 Endorsement
Neither former President Barack Obama nor former First Lady Michelle Obama are expected to endorse a candidate during the 2020 Democratic primary, according to The New York Times. Privately, however,..
Credit: Wochit News Duration: 00:40Published
Last Laugh: WV Official Who Called Michelle Obama 'Ape In Heels' Stole $18K From FEMA
In 2016, West Virginian Pamela Taylor lost her job with the Clay County Development Corporation. Her firing came after she called then-first lady Michelle Obama an "ape in heels" in a Facebook post...
Credit: Wochit News Duration: 00:48Published
Michelle Obama Makes Surprise Grammys Appearance
Michelle Obama made quite a splash at the 61st Grammy Awards.
Credit: Wochit News Duration: 00:34Published
Highlights Of The 2019 Grammys: From Michelle Obama's Surprise Cameo To JLo's Motown Tribute
Here are some of the highlights of 2019 Grammy Awards. Music Credit: Audioblocks 'Upbeat'
Credit: Newsweek Duration: 03:14Published
Rap scores a breakthrough at the Grammy awards
Childish Gambino's "This is America" makes history at the Grammy awards by winning both record and song of the year - a first for hip hop. The night also celebrated girl power with top prize Album of..
Credit: Reuters Studio Duration: 01:38Published
Watch: Michelle Obama Surprises Crowd At 2019 Grammys
During the 2019 Grammy Awards, Former U.S. First Lady Michelle Obama received a standing ovation as part of Alicia Keys' opening monologue. Obama calmed the crowd down before going on to talk about the..
Credit: Newsweek Duration: 00:27Published
Michelle Obama Brought the Crowd to Their Feet at the 2019 Grammys
Michelle Obama Brought the Crowd to Their Feet at the 2019 Grammys
Credit: Time Duration: 00:51Published
Women's History Month: Podcasts on motherhood, business, health, politics and more
Listen to guests like Michelle Obama & Hillary Clinton on these women-led podcasts. Hosts tackle business, motherhood, cancer, politics and more.
USATODAY.com - Published
Search this site and the web:
You Might Like