Orthodox Judaism
Traditionalist branches of Judaism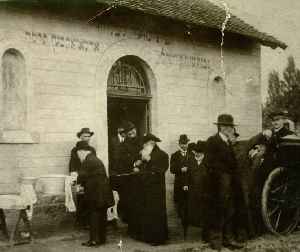 Orthodox Judaism is a collective term for the traditionalist branches of contemporary Judaism. Theologically, it is chiefly defined by regarding the Torah, both Written and Oral, as literally revealed by God on Mount Sinai and faithfully transmitted ever since. Orthodox Judaism therefore advocates a strict observance of Jewish Law, or Halakha, which is to be interpreted and determined only according to traditional methods and in adherence to the continuum of received precedent through the ages. It regards the entire halakhic system as ultimately grounded in immutable revelation, essentially beyond external and historical influence. More than any theoretical issue, obeying the dietary, purity, ethical, and other laws of Halakha is the hallmark of Orthodoxy. Other key doctrines include belief in a future resurrection of the dead, divine reward and punishment for the righteous and the sinners, the Election of Israel, and an eventual restoration of the Temple in Jerusalem under the Messiah.


Protesters rally as lawmakers consider ending religious vaccine exemptions
A measles outbreak in New York has taken place in Orthodox Jewish communities, where a pamphlet questioning vaccines has been circulating
CBS News - Published
New Jersey cop, firefighter disciplined after dressing up as an Orthodox Jew at a party
Photos of a New Jersey police officer dressed in the traditional style of an Orthodox Jewish man prompted an internal investigation.
USATODAY.com - Published
New York City Tickets 12 People For Defying Measles Vaccination Order
According to Reuters, New York City has issued civil summonses to 12 people it said were not complying with a mandatory measles vaccination order as the number of recorded cases rose to 390. The..
Credit: Wochit News Duration: 00:37Published
Antivaxxers Sue NYC Over Measles Vaccine Mandate
Smack dab in the middle of a major measles outbreak in New York and other areas across the country, five unnamed mothers are New York City to bar the municipality from requiring people to have..
Credit: Wochit News Duration: 01:02Published
Anti-Vaxxers Sue Over Vaccine Mandate
According to Huffington Post, A group of parents in Brooklyn are suing the New York City health department for ordering mandatory measles vaccinations in parts of the borough earlier this month amid a..
Credit: Wochit News Duration: 00:54Published
New York declares measles emergency
A measles outbreak in Brooklyn, primarily among Orthodox Jewish children, prompts New York City to declare a public health emergency, requiring unvaccinated people in the affected areas to get the..
Credit: Reuters Studio Duration: 01:39Published
New York Issues Public Health Emergency Over Measles Outbreak
New York City officials have declared a public health emergency in Brooklyn, over the city's largest measles outbreak since 1991. The declaration requires unvaccinated people in the affected areas to..
Credit: Wochit News Duration: 00:40Published
NYC declares emergency over measles outbreak
New York City Mayor Bill de Blasio declared a public health emergency in parts of Brooklyn on Tuesday in response to a measles outbreak, requiring unvaccinated people living in the affected areas to..
Credit: Reuters Studio Duration: 01:09Published
Suspects sought in anti-Semitic attack in Brooklyn
A reward is being offered for the arrest of four men accused of attacking an Orthodox Jewish man in the Williamsburg section of Brooklyn, New York. The victim told WCBS his attackers made comments..
CBS News - Published
Search this site and the web:
You Might Like