Parliament
Legislative body of government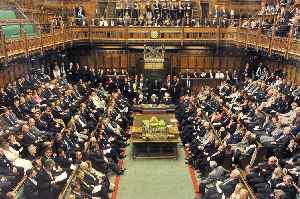 In modern politics and history, a parliament is a legislative body of government. Generally, a modern parliament has three functions: representing the electorate, making laws, and overseeing the government via hearings and inquiries. The term is similar to the idea of a senate, synod or congress, and is commonly used in countries that are current or former monarchies, a form of government with a monarch as the head. Some contexts restrict the use of the word parliament to parliamentary systems, although it is also used to describe the legislature in some presidential systems, even where it is not in the official name.


Pakistan's opposition parties unite to rally against PM Imran Khan

A group of 11 major opposition parties in Pakistan have joined hands to raise their protest against the ruling Prime Minister Imran Khan's Pakistan Tehreek-e-Insaf (PTI). A large number of people..
Credit: ANI Duration: 01:57
Published
Pro-presidential parties dominate Kyrgyzstan parliamentary vote

Several opposition parties reject preliminary results showing four parties crossing the threshold to get representation in Parliament.
Credit: Al Jazeera STUDIO Duration: 04:49
Published
Misbehaviour of parliamentarians with RS Deputy Speaker is political hooliganism: Hardeep Singh Puri

While addressing a press conference in Chandigarh, Union Ministre Hardeep Singh Puri talked about the misbehaviour of parliamentarians with the Deputy Speaker. He said that whatever happened on..
Credit: ANI Duration: 01:10
Published
Ministers have held crisis talks with Tory MPs in an effort to ward off a revolt over coronavirus laws

Boris Johnson is under pressure to give Parliament the opportunity to debateand vote on future restrictions, with more than 50 Tory MPs signalling theycould rebel on the matter.
Credit: PA - Press Association STUDIO Duration: 01:07
Published
Opposition against Farm Bills only for political gains, says Bhilwara farmers

Farmers of Rajasthan's Bhilwara took a sigh of relief after the Farm Bills were passed by the Parliament. They hailed the bills in one voice and supported them with open arms. Bhilwara farmers also..
Credit: ANI Duration: 02:54
Published
Several farmers of Hisar welcome agriculture reform bills

Several farmers of Hisar, welcomed the new agriculture reform bills passed in the Parliament. Farmers believe bill will be beneficial. So far, Rajya Sabha has passed two of the three agriculture reform..
Credit: ANI Duration: 02:24
Published
Watch: Farmer groups hold 'rail roko' in Punjab; BJP & Congress trade charges

Farmer groups in Punjab have started their three day long 'rail roko' agitation against the three agriculture bills. Farmers were seen gathering on railway tracks as part of their protests. Special..
Credit: HT Digital Content Duration: 04:12
Published
Farm Bills: 'Opposition's politics directionless', says Prakash Javadekar

Minister of Information and Broadcasting, Prakash Javadekar slammed the opposition over their way of opposing the new farm Bills in Parliament and outside the houses. "Opposition politics become..
Credit: ANI Duration: 01:58
Published
Govt to blame for 'hungama': Opposition on Parliament ruckus after Prez meet

Opposition parties tried to corner the government over farm bills by meeting the President of India. Opposition leaders urged President Ram Nath Kovind to not give assent to controversial bills. The..
Credit: HT Digital Content Duration: 05:08
Published
Monsoon session ends amid suspensions & boycotts; upset Oppn meets President

The monsoon session of the Parliament, held under the shadow of the Covid-19 pandemic, is ending earlier than planned amid a surge in infections. But rather than the unprecedented precautions and..
Credit: HT Digital Content Duration: 16:24
Published
Modi Govt committed to implementing Swaminathan Commission report: Smriti Irani

While speaking to ANI in the national capital on September 23, the Union Minister of Women and Child Development, Smriti Irani spoke on agriculture reform bills recently passed in Parliament. She said,..
Credit: ANI Duration: 02:09
Published
Watch: Opposition MPs stage protest against agriculture bills in Parliament

Opposition MPs protested in parliament premises against the agriculture bills. They held demonstrations in front of the Gandhi statue in parliament. They also took out a march from Gandhi statue..
Credit: HT Digital Content Duration: 01:51
Published
Watch: Harivansh breaks fast; Athawale demands 'suspension law' for unruly MPs

Rajya Sabha Deputy Chairman Harivansh Narayan Singh broke his one-day fast against the ruckus in Rajya Sabha on Sunday during the passage of the contentious agriculture bills. Eight MPs from different..
Credit: HT Digital Content Duration: 02:18
Published
Sukhbir Badal: Voice vote shows govt unwilling to listen, inside or outside parliament

Amid massive uproar by opposition members, the Rajya Sabha on September 20 passed the Farmer's Produce Trade and Commerce (Promotion and Facilitation) Bill, 2020, and the Farmers (Empowerment and..
Credit: HT Digital Content Duration: 02:46
Published
'Sushant case not suicide': BJP's Rupa Ganguly protests against Bollywood

BJP MP Rupa Ganguly protested outside Parliament against the alleged malpractices in the industry. She held posters slamming the industry and said that the industry was pushing people towards drugs...
Credit: HT Digital Content Duration: 01:53
Published
Suspended MPs stage protest in Parliament premises over their suspension

Opposition parties' MPs along with the suspended MPs staged protest in the Parliament premises on September 21. The protest was against the suspension of eight MPs by Rajya Sabha Chairman M Venkaiah..
Credit: ANI Duration: 01:29
Published
BJP MP Rupa Ganguly stages protest against malpractices in Bollywood

BJP MP Rupa Ganguly staged protest in front of Mahatma Gandhi's statue in the Parliament premises on September 21. Ganguly was protesting against the drug abuse in the Bollywood industry and the 'Me..
Credit: ANI Duration: 01:43
Published
You Might Like



8/28: CBSN AM

Prime Minister Boris Johnson asks Queen to suspend Parliament; California Governor touts free community college program




CBS News - Published





Canada's Trudeau backs opposition leader kicked out of Parliament in racism row

Canadian Prime Minister Justin Trudeau on Thursday backed the leader of an opposition party who was ejected from the House of Commons for branding a member of another party a racist and refusing to..




Reuters - Published





Lockdown Threatens Future of Shakespeare's Globe Theater

In a letter to Parliament, the theater warned that it was in danger of closing if it did not receive emergency funding from the government to make up for lost revenue.




NYTimes.com - Published





Trudeau calls for 'Team Canada' effort, wants lawmakers to back coronavirus package

Prime Minister Justin Trudeau called on Wednesday for a "Team Canada effort" to beat the coronavirus outbreak, saying Parliament should be brought back so all legislators could approve a massive aid..




Reuters - Published




Canada's Trudeau wants to recall MPs to back massive coronavirus aid package

Canadian Prime Minister Justin Trudeau said on Wednesday he wanted to recall Parliament so legislators could approve a massive aid package he called "the biggest economic measures of our lifetimes".




Reuters - Published





Hungary to shut borders to international passengers to fight coronavirus: PM

Hungary will close its borders for international passengers, close cultural and sports events and establishments and limit the opening hours of restaurants, Prime Minister Viktor Orban told Parliament..




Reuters - Published





Coronavirus Live Updates: More Than 1,000 Cases in the U.S.

Britain's health minister said she tested positive for the virus, leading lawmakers to consider suspending Parliament. In the U.S., restrictive federal rules have delayed health workers' ability to..




NYTimes.com - Published





Spain's future in the balance as lawmakers head for knife-edge vote

Spanish lawmakers head to Parliament on Saturday for several days of debate ahead of an extremely tight vote that could confirm Socialist leader Pedro Sanchez as prime minister, breaking the country's..




Reuters - Published





Spain´s Catalan separatists ERC agrees to abstain in Sanchez investiture

Catalan separatist party Esquerra Republicana de Catalunya (ERC) said on Thursday it will abstain during the vote in Parliament to confirm Pedro Sanchez as Prime Minister, potentially signaling an end..




Reuters - Published





Johnson tells supporters after win "we did it!"

Prime Minister Boris Johnson's Conservative Party won a majority in Britain's Parliament. He says the victory gives him a mandate to navigate Britain's exit from the European Union. (Dec. 13)  




USATODAY.com - Published





UK Conservatives win big, Johnson claims mandate

Prime Minister Boris Johnson's Conservative Party won a thumping majority in Britain's Parliament - a decisive outcome to a Brexit-dominated election that should allow Johnson to fulfill his plan to..




USATODAY.com - Published





Paris conference sign of foreign concern for Lebanon: Berri

A Paris conference to mobilize support for Lebanon showed that the international community is more concerned about the country than some Lebanese, Parliament Speaker Nabih Berri said on Wednesday.




Reuters - Published





Parliament approves Iraqi prime minister's resignation

Iraq's parliament voted on Sunday to accept the resignation of Prime Minister Adel Abdul Mahdi, following weeks of violent anti-government protests that have rocked the country.




Reuters - Published





Hungary's ruling party to curtail freedom of action, access for MPs

Hungary's Parliament will begin discussing on Wednesday a bill that restricts its members' freedom of action, a ruling party proposal that has led to renewed accusations of authoritarianism on the..




Reuters - Published





Lebanon's Speaker Berri says situation in Lebanon getting more 'complicated': Al Joumhouria

The situation in Lebanon is becoming more complicated, Lebanese Parliament Speaker Nabih Berri was cited as saying by newspaper al-Joumhouria on Saturday, comments that suggested a deal needed to form..




Reuters - Published





Parliament votes to withhold Boris Johnson's Brexit deal

Huge crowds of anti-Brexit protesters took to the streets of London on Saturday. Organizers claimed up to one million people jammed central London as Parliament debated Prime Minister Boris Johnson's..




CBS News - Published

Also reported by •USATODAY.com


Lebanon's Berri says insists on Hariri as PM of next government- NBN television

Lebanon's Parliament Speaker Nabih Berri said he insisted on nominating Saad al-Hariri as prime minister of the country's next government, NBN television reported on Thursday.




Reuters - Published





The Royals Report: Queen's dressmaker releases new book

Queen Elizabeth's dressmaker has published a new book with details about palace life. In the week's edition of The Royals Report, BBC royal correspondent Jonny Dymond joins CBSN to talk about that..




CBS News - Published





U.K. voters to weigh in on future of Brexit in December election

Voters in Britain will go to the polls yet again after lawmakers failed to come up with a Brexit deal over the past three years. A general election as been set for December 12th, with Parliament..




CBS News - Published





Duchess Meghan gets support of 72 women 'of all political persuasions' in U.K. Parliament

Duchess Meghan's treatment in the British press has inspired 72 female members of Parliament to come together in support of the former "Suits" star.




USATODAY.com - Published





Boris Johnson to seek election amid Brexit deadlock

British Prime Minister Boris Johnson says he will likely ask Parliament to approve an election as part of an effort to break a Brexit deadlock.




USATODAY.com - Published





UK PM Johnson passes government's legislative agenda

Parliament approved Prime Minister Boris Johnson's plan for government on Thursday in a symbolic vote that does little to strengthen his authority on Brexit or signal an end to the country's political..




Reuters - Published





Back an election and we can still ratify a Brexit deal, UK PM Johnson tells Labour

Parliament could still pass a deal to leave the European Union if it backs the government's attempt to hold a new election, Prime Minister Boris Johnson told opposition Labour leader Jeremy Corbyn in a..




Reuters - Published





British Parliament to vote on Brexit bill

"If Parliament refuses to allow Brexit to happen... in no circumstances can the government continue with this," Boris Johnson says




CBS News - Published





Canada's Trudeau retains power in election but will have minority government

Canadian Prime Minister Justin Trudeau's Liberals held onto power after a closely fought election on Monday but were reduced to a minority government that will need the support in Parliament of a..




Reuters - Published





Canada's Trudeau overcomes scandals to win a likely 2nd term

Progressive Canadian Prime Minister delivers unexpectedly strong results, but his Liberal Party falls short of a majority in Parliament




CBS News - Published





Brexit nears deal, opioid trial begins, Canadians head to the polls: 5 things you need to know Monday

Canadians are headed to the polls, Britain's Parliament may vote on another Brexit deal and more things to start your day.




USATODAY.com - Published





Canada's Trudeau, main rival trade attacks as campaign grinds to conclusion

Canadian Prime Minister Justin Trudeau, facing the loss of his Parliamentary majority in an election next week, traded attacks with his main rival on Saturday as a bad-tempered campaign entered its..




Reuters - Published




Britain's Parliament set for knife-edge vote on Brexit's 'Super Saturday'

British lawmakers are set to vote on Prime Minister Boris Johnson's new European Union exit deal. The vote is going to be very close.




USATODAY.com - Published





AP Top Stories 15 P

Here's the latest for Tuesday, Oct. 15th: Hunter Biden addresses Trump accusations; Cuba Gooding Jr. pleads not guilty; Convictions of Catalan separatist leaders lead to clashes in Northeastern Spain;..




USATODAY.com - Published





Queen Elizabeth addresses Parliament as Brexit deadline approaches

Queen Elizabeth delivered an address to members of Parliament just weeks before the deadline for Britain to leave the European Union. BBC News correspondent Jonathan Blake has details from London.




CBS News - Published





UK Parliament suspended until October 14

Britain's Parliament was suspended Tuesday evening so that a new session can begin next week with a major policy speech from Prime Minister Boris Johnson's Conservative government. (Oct. 9)  




USATODAY.com - Published





British Prime Minister Boris Johnson returns to a hostile government

British Prime Minister Boris Johnson left New York early after the country's highest court ruled his suspension of Parliament was illegal. He returned to a hostile government as he goaded the..




CBS News - Published





Boris Johnson challenges political foes at raucous Parliament

"Have you no shame, prime minister?" said Ian Blackford, the Scottish National Party's leader in Parliament




CBS News - Published

Also reported by •USATODAY.com


Lawmakers return to work in U.K. Parliament

Lawmakers in the House of Commons are back at work today after a historic U.K. Supreme Court decision overturned the suspension of Parliament. Imtiaz Tyab joined CBSN AM to talk about the latest as the..




CBS News - Published





Trump assures UK's Johnson he'll win in court

President Trump sought to assure UK Prime Minister Boris Johnson that he'll win future court battles after his suspension of Parliament was ruled illegal. Trump said he lost a series of rulings when..




USATODAY.com - Published





UK court rules parliament suspension illegal

In a setback for Prime Minister Boris Johnson, Britain's Supreme Court has ruled that the suspension of Parliament was illegal. (Sept. 24)  




USATODAY.com - Published





Top U.K. court rules PM's Brexit move unlawful

In unanimous decision, Supreme Court says Boris Johnson's suspension of Parliament just weeks before the Brexit deadline was illegal, and is now null and void. CBS News' Imtiaz Tayab reports from..




CBS News - Published





U.K. Supreme Court deals Boris Johnson a huge Brexit defeat

Court has declared Johnson's controversial decision to suspend Parliament weeks ahead of scheduled EU withdrawal "unlawful," and null and void




CBS News - Published





UK Supreme Court rules Boris Johnson's suspension of Parliament was unlawful

The decision could have wide-ranging political ramifications for Brexit, and Johnson, who is attending the United Nations General Assembly in New York.




USATODAY.com - Published





What does the queen do now that Parliament's suspended?

A court has ruled British Prime Minister Boris Johnson's move to suspend Parliament just ahead of the Brexit deadline was illegal. BBC royal correspondent Jonny Dymond joined CBSN for The Royals..




CBS News - Published





UK Parliament suspended after Boris Johnson's latest Brexit defeat

British Prime Minister Boris Johnson suffered multiple setbacks on his Brexit plans this week, following outrage over his decision to suspend Parliament. CBS News senior foreign correspondent Mark..




CBS News - Published





Ban on "no-deal" Brexit gets royal rubber stamp

Legislation means Boris Johnson cannot take U.K. out of the EU without a deal on the October 31 deadline unless Parliament gives consent




CBS News - Published





Parliament bars Israeli PM's plan for cameras at polling stations

Prime Minister Benjamin Netanyahu failed on Monday in a bid to have cameras installed at Israeli voting stations, but seized on the legislative defeat to hone accusations his foes intend to steal next..




Reuters - Published





Boris Johnson clashes with Parliament over Brexit

The debate over Brexit continues to heat up. Boris Johnson has vowed to take Britain out of the European Union, with or without a trade agreement. Elizabeth Palmer has the latest.




CBS News - Published





What comes next with Brexit? Here's why no one knows

Members of Parliament are terrified of a so-called "no-deal Brexit," fearing it would cause chaos and even food shortages




CBS News - Published




UK Prime Minister Boris Johnson threatens new election after losing Brexit vote

More political turmoil is unfolding in Britain, where Prime Minister Boris Johnson has suffered a major Brexit defeat. He's vowed to hold snap elections while Parliament looks to prevent a "no-deal"..




CBS News - Published




Johnson weakened by party defections over Brexit

British Prime Minister Boris Johnson suffered key defections from his party Tuesday, losing a working majority in Parliament and weakening his position as he tried to prevent lawmakers from blocking..




USATODAY.com - Published