John Lennon
English singer and songwriter, founding member of the Beatles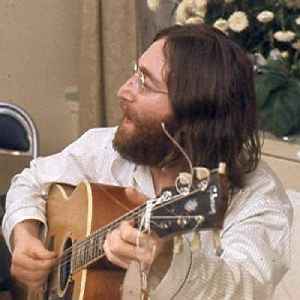 John Winston Ono Lennon was an English singer, songwriter and peace activist who gained worldwide fame as the founder, co-lead vocalist, and rhythm guitarist of the Beatles. His songwriting partnership with Paul McCartney remains the most successful in history. In 1969, he started the Plastic Ono Band with his second wife, Yoko Ono. After the Beatles disbanded in 1970, Lennon continued as a solo artist and as Ono's collaborator.


Today in History for December 8th
America enters World War Two; Former Beatle John Lennon is shot to death in New York. (Dec. 8)  
USATODAY.com - Published
The story behind McCartney's "Michelle"
Paul McCartney says John Lennon encouraged him to turn his "crazy little French thing" into a song
CBS News - Published
Julian Lennon undergoes emergency cancer operation
Julian Lennon - the son of late Beatles legend John Lennon - was recently rushed to hospital for an emergency cancer operation after a suspicious-looking mole was discovered during a visit to his..
Credit: Bang Media World Duration: 00:52Published
Paul McCartney: human, humble and still having fun
In an interview with 60 Minutes, the Beatle talks about worrying, songwriting, and how even John Lennon was insecure
CBS News - Published
'I have a lot of dreams about John': Paul McCartney reminisces about The Beatles
After all these years, Paul McCartney still believes in yesterday. The Beatles musician told Stephen Colbert he thinks about John Lennon 'quite often.'
USATODAY.com - Published
Almanac: Ringo Starr's birthday
79 years ago today, Richard Starkey was born in a tough neighborhood of Liverpool, England. He grew up to become known as Ringo Starr, the drummer who in 1962 joined John Lennon, Paul McCartney, and..
CBS News - Published
Paul McCartney reveals John Lennon's fear to 60 Minutes
The Beatle also talks about worrying, songwriting, and how even his famous bandmate was insecure
CBS News - Published
You Might Like