Rudy Gobert
French basketball player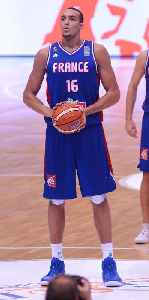 Rudy Gobert-Bourgarel is a French professional basketball player for the Utah Jazz of the National Basketball Association (NBA). He also represents the French national basketball team in the international competitions. Standing at 7 ft 2 in (2.18 m) tall with a wingspan of 7 ft 9 in (2.36 m) long, he plays at the center position. He was the NBA blocks leader in the 2016–17 season. In 2018 and 2019, he won back-to-back NBA Defensive Player of the Year awards, making him one of only ten players in NBA History who have won that honor at least twice. In 2019, Gobert shattered the single-season record for slam dunks with 306. That year, Gobert also led the NBA in Screen Assists, with 482, Effective Field Goal %, with 66.9%, and True Shooting %, at 68.2%. He has been named to an All-NBA Team in 2017 and 2019.


Gobert, George, Giannis headline NBA All-Defensive teams
Defensive Player of the Year Rudy Gobert and MVP finalists Giannis Antetokounmpo and Paul George were the leading vote-getters for the All-Defensive first team
USATODAY.com - Published
Gobert helps Jazz blow out Lakers 115-100 as LeBron sits
Rudy Gobert had 22 points and 11 rebounds, Derrick Favors scored 20 and Joe Ingles nearly posted his first triple-double to power the Utah Jazz to a 115-100 win over the depleted Los Angeles Lakers
USATODAY.com - Published
Basketball shocker as France knock U.S. out of World Cup
A big shock at the basketball World Cup as France knock the United States out in China.
Credit: Reuters - Sports Duration: 01:01Published
Gobert sets dunk record, Jazz cruise despite Booker's 59
Rudy Gobert scored a season-high 27 points and set the single-season NBA dunk record to fuel the Utah Jazz to a 125-92 victory over the Phoenix Suns, who got 59 points from Devin Booker
USATODAY.com - Published
Gobert leads Jazz to 114-83 romp over Bulls
Rudy Gobert had 21 points and 14 rebounds, and the Utah Jazz rolled to one of their most lopsided wins of the season, beating the Chicago Bulls 114-83 on Saturday night
USATODAY.com - Published
Mitchell scores 30, Jazz pound Knicks 137-116
Donovan Mitchell scored 30 points, Rudy Gobert made all seven shots and added 18, and the Utah Jazz romped to their fifth straight lopsided victory by beating the New York Knicks 137-116
USATODAY.com - Published
Gobert, Mitchell lead Utah in 116-95 rout of Washington
Rudy Gobert had 14 points and 14 rebounds, Donovan Mitchell scored 19 and the Utah Jazz won their fourth straight by beating the Washington Wizards 116-95
USATODAY.com - Published
Gobert shakes off illness to lead Jazz past Nets, 114-98
Rudy Gobert shakes off illness to lead Jazz past Nets 114-96
USATODAY.com - Published
Mitchell, Gobert propel Jazz to 114-97 win over Suns
Donovan Mitchell scored 16 of his 26 points in the second half, leading the Utah Jazz to a 114-97 win over the Phoenix Suns
USATODAY.com - Published
Favors, Gobert push Jazz past Pelicans 114-104
Derrick Favors scored 25 points and the Utah Jazz defeated the New Orleans Pelicans 114-104
USATODAY.com - Published
Mitchell scores 32, Jazz beat Clippers 111-105
Donovan Mitchell scored 32 points, Rudy Gobert had 20 points and 13 rebounds, and the Utah Jazz beat the Los Angeles Clippers 111-105
USATODAY.com - Published
Mitchell, Gobert help Jazz breeze past Spurs, 125-105
Donovan Mitchell scored 23 points, Rudy Gobert had 21 points and 13 rebounds and the Utah Jazz beat the San Antonio Spurs 125-105
USATODAY.com - Published
Gobert posts 25 points, 13 boards, Utah tops Hawks 128-112
Rudy Gobert had 25 points and 13 rebounds to lead the Utah Jazz to a 128-112 victory over the Atlanta Hawks on Friday night
USATODAY.com - Published
You Might Like