John Kasich
American politician and former television host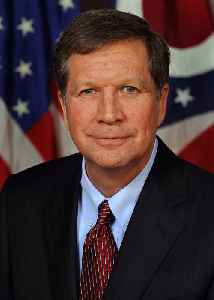 John Richard Kasich Jr. is an American politician, author, and television news host who served as the 69th Governor of Ohio from 2011 to 2019. Elected in 2010 and re-elected in 2014, Kasich is a Republican.


John Kasich now says President Trump should be impeached
"I say it with great sadness. This is not something I really wanted to do," the former Ohio governor said of impeaching President Trump.
USATODAY.com - Published
I ran for president twice then realized we the people can move our country forward: Kasich
Americans are not power­less in the grand scheme of our democracy. Individuals pushing for change have had enormous impact over the past 250 years.
USATODAY.com - Published
2020 Daily Trail Markers: Republican rivals consider challenging Trump in 2020
Republican rivals hoping to challenge President Trump in the 2020 election have just a few more months to declare their intentions. With state deadlines this fall, the news of former Ohio Gov. John..
CBS News - Published
Trump naysayers want to see what the mood is in New Hampshire
John Kasich is planning a visit to New Hampshire next month, and Mark Sanford has also made a trip to the state
CBS News - Published
2020 Daily Trail Markers: Kasich plans New Hampshire trip
And Mark Sanford, who's considering a White House run, told CBS. "If you look at a state like New Hampshire, there certainly is historic precedent for somebody getting in during this window of time"
CBS News - Published
John Kasich: Ohio's fight against the opioid epidemic can be national model
When Ohio's opiate overdoses fell last year, the success of its fight against the epidemic was confirmed. Other states can learn form Ohio's progress.
USATODAY.com - Published
9/2: John Kerry, John Kasich
This week on "Face the Nation," moderator Margaret Brennan interviews former Secretary of State John Kerry and Ohio Gov. John Kasich. Plus, we look back at the nation's memorial for Sen. John McCain.
CBS News - Published
Flake: Joe Biden "strikes fear" among GOP
Jeff Flake, former Republican senator from Arizona and CBS News contributor, joins "CBS This Morning" to discuss why he thinks John Kasich and Larry Hogan would be "strong" if they decide to run..
CBS News - Published
Hogan casts doubt on GOP primary challenges by Kasich, Weld
Maryland's Republican governor told CBS News the president may be vulnerable in the general election against the eventual Democratic nominee
CBS News - Published
You Might Like