Brent Scowcroft
US National Security Advisor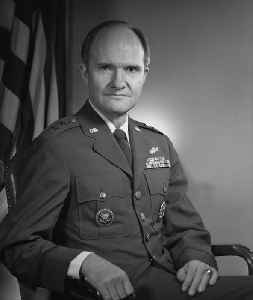 Brent Scowcroft was a United States Air Force officer who was a two-time United States National Security Advisor, first under U.S. President Gerald Ford and then under George H. W. Bush. He served as Military Assistant to President Richard Nixon and as Deputy Assistant to the President for National Security Affairs in the Nixon and Ford administrations. He served as Chairman of the President's Foreign Intelligence Advisory Board under President George W. Bush from 2001 to 2005 and assisted President Barack Obama in choosing his national security team.


You Might Like
Regrets? Even Brent Scowcroft Had a Few
In an oral history released after his death, the former national security adviser revealed a few key moments in which his ideas failed in the war against Saddam Hussein.
NYTimes.com - Published
Passage: In memoriam
"Sunday Morning" looks back at three notable figures who left us this week: Pianist and educator Leon Fleisher; journalist and author Pete Hamill; and former national security advisor to two..
CBS News - Published
AP Top Stories Aug. 7 P
Here are the top stories for Friday, August 7th: July unemployment figures released; NY students can return to the classroom; More than a dozen dead in India plane crash; Brent Scowcroft dies, Herman..
USATODAY.com - Published
Brent Scowcroft, national security adviser to two presidents, dies at 95
Scowcroft counseled seven administrations and was a key political figure during the Cold War and the Gulf War.
CBS News - Published
Brent Scowcroft, a Force on Foreign Policy for 40 Years, Dies at 95
He was a national security adviser to President Ford and the first President Bush and an influential voice in Washington for decades.
NYTimes.com - Published
Search this site and the web: