Richard Stengel
American magazine editor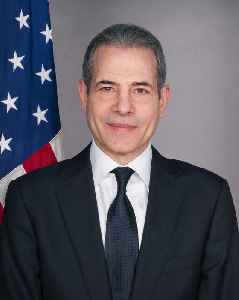 Richard Allen Stengel is an American editor, author, and former government official. He was Time magazine's 16th managing editor from 2006 to 2013. He was also chief executive of the National Constitution Center from 2004 to 2006, and served as President Obama's Under Secretary of State for Public Diplomacy and Public Affairs from 2014 to 2016. Stengel has written a number of books, including a collaboration with Nelson Mandela on Mandela's autobiography, Long Walk to Freedom. Stengel is an on-air analyst at MSNBC, a strategic advisor at Snap Inc., and a Distinguished Fellow at the Atlantic Council. His 2019 book, Information Wars: How we Lost the Battle Against Disinformation and What to Do About It, recounts his time in the State Department countering Russian disinformation and ISIS propaganda.


You Might Like
December 8: Angelou, Baker, Ifill, Miller
A look at Nelson Mandela's legacy with Randall Robinson, Dr. Maya Angelou, James Baker, Gwen Ifill, Lorraine Miller, Michele Norris, Rick Stengel, and more.
CBS News - Published
Mandela insider on his life and death
Former Time magazine editor and author of "Mandela's Way" Richard Stengel joins the "CBS This Morning" co-hosts to discuss the memorial service and Mandela's legacy.
CBS News - Published
Nelson Mandela: Shrewd politician
Gayle King, Rick Stengel, Michele Norris, Lorraine Miller, and Gwen Ifill reflect on Nelson Mandela the man and Nelson Mandela the politician.
CBS News - Published
Search this site and the web: