Andrew Gillum
126th Mayor of Tallahassee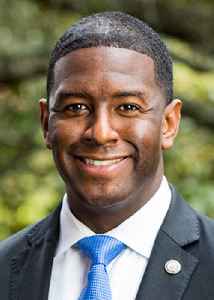 Andrew Demese Gillum is an American politician who served as the 126th Mayor of Tallahassee from 2014 to 2018. A member of the Democratic Party, he was its nominee for Governor of Florida in the 2018 election. He previously was a Tallahassee City Commissioner from 2003 until 2014, first elected at the age of 23.


'Florida Is Tired of Being a Cheap Date': Andrew Gillum Wants to Help Democrats Win in 2020
In an interview, the former mayor and rising Democratic star confirms he's not running for president, and outlines his plans to mobilize Florida voters for the election.
NYTimes.com - Published
Andrew Gillum announces creation of voter registration PAC
Former Tallahassee mayor announced he will be launching a voter registration initiative in Florida to help Democrats win the state in 2020 and "evict Donald Trump" from the White House
CBS News - Published
Search this site and the web:
You Might Like