Houston Rockets
American professional basketball team based in Houston, Texas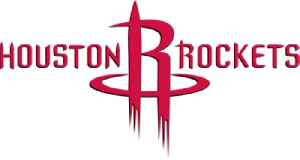 The Houston Rockets are an American professional basketball team based in Houston, Texas. The Rockets compete in the National Basketball Association (NBA), as a member of the league's Western Conference Southwest Division. The team plays its home games at the Toyota Center, located in downtown Houston. The Rockets have won two NBA championships and four Western Conference titles. The team was established as the San Diego Rockets, an expansion team originally based in San Diego, in 1967. In 1971, the Rockets moved to Houston.


Harden ties career best with 61, Rockets beat Spurs 111-105
James Harden scored 61 points, including 27 in the first quarter, to lead the Houston Rockets to a 111-105 win over the San Antonio Spurs on Friday night.
USATODAY.com - Published
James Harden scorches Spurs for 61 points to lead late Rockets rally
James Harden tied his career high and franchise record with 61 points, including all of Houston's points in a late 13-2 run to surge past San Antonio.
USATODAY.com - Published
Has Houston Proved It Can Win the NBA Championship?
The Houston Rockets picked up an impressive road win Tuesday night, knocking off the Raptors to win their sixth straight game. Should the Rockets be favored to win the NBA championship?
Credit: Sports Illustrated Duration: 02:00Published
How Should James Harden's Scoring Streak Be Remembered?
James Harden's 32-game streak of scoring at least 30 points ended last night in Houston's win over Atlanta. SI Now's Robin Lundberg and Ryan Asselta weigh in on how people should remember the Rockets..
Credit: Sports Illustrated Duration: 01:42Published
Do the Rockets Have the Warriors' Number?
After a 118-112 win on Saturday, the Rockets are now 3-0 this season against the Warriors. Does Houston have Golden State's number, or do the Warriors have some bigger issues to deal with?
Credit: Sports Illustrated Duration: 00:53Published
Is There Ever a Reason to Doubt LeBron?
LeBron James and the Lakers were "activated" in the second half to come back from a 19-point deficit and beat the Houston Rockets, 111-106. Should we rethink ever doubting King James?
Credit: Sports Illustrated Duration: 01:42Published
Should Rockets Star James Harden Be Allowed to Complain About NBA Officiating?
Following Houston's loss to Los Angeles on Thursday, Rockets star James Harden and Chris Paul criticized NBA official Scott Foster. SI Now's Robin Lundberg and Amy Campbell discuss if Harden and Paul..
Credit: Sports Illustrated Duration: 01:37Published
Trump Admits He Didn't Read Intelligence Report After Questioning Its Accuracy
"The Intelligence people seem to be extremely passive and naive when it comes to the dangers of Iran. They are wrong!" President Trump tweeted on Jan. 30. "They are testing Rockets (last week)..
Credit: Newsweek Duration: 00:24Published
Harden, Capela lead Rockets to easy win over Hawks
James Harden had 31 points and 10 assists, Clint Capela added 26 points and 11 rebounds and the Houston Rockets won their third straight game with a 121-105 victory over the Atlanta Hawks
USATODAY.com - Published
Paul scores 25 to lead Rockets over Wolves 117-102
Chris Paul scored 25 points with 10 assists and tied a career high with six 3-pointers as the Houston Rockets used a big third quarter to pull away and get a 117-102 win over the Minnesota..
USATODAY.com - Published
Search this site and the web:
You Might Like