Sarah Paulson
American actress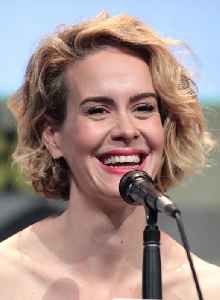 Sarah Catharine Paulson is an American actress. She is the recipient of several accolades, including a Primetime Emmy Award and a Golden Globe Award. In 2017, Time magazine named her one of the 100 most influential people in the world.


You Might Like
Sarah Paulson on new Netflix series "Ratched" and revisiting iconic "Cuckoo's Nest" character
Sarah Paulson joins "CBS This Morning" to discuss her new Netflix series "Ratched," which is inspired by the iconic character, asylum nurse Mildred Ratched, from both the book and movie "One Flew Over..
CBS News - Published
Sarah Paulson and Sharon Stone like the female-centric experience
Sharon Stone never starred opposite a woman who also produced a project, until she made "Ratched" with Sarah Paulson: "Sarah's spectacular." (Sept. 15)  
USATODAY.com - Published
Hollywood stars mourn 'magnetic' Boseman
Sharon Stone, Sarah Paulson, Cynthia Nixon share their thoughts about Chadwick Boseman's death. (Sept. 4)  
USATODAY.com - Published
MOVIE REVIEW: Abominable
by Graham Pierrepoint - ABOMINABLE IMDb Dir: Jill Culton Starring Chloe Bennet, Albert Tsai, Tenzing Norgay Trainor, Eddie Izzard, Sarah Paulson, Tsai Chin, Michelle Wong 5 STARS (out of 5) 2019..
One News Page Staff - Published
Clinton impeachment is FX's next 'American Crime Story,' with Sarah Paulson as Linda Tripp
'Impeachment: American Crime Story' tells story from POV of Paula Jones, Monica Lewinsky and Linda Tripp in FX's third installment due September 2020.
USATODAY.com - Published
MOVIE REVIEW: Glass
by Graham Pierrepoint - GLASS IMDb Dir: M Night Shyamalan Starring James McAvoy, Bruce Willis, Anya Taylor-Joy, Sarah Paulson, Samuel L Jackson, Spencer Treat Clark, Charlayne Woodard 4 STARS (out..
One News Page Staff - Published