Navy
Military branch of service primarily concerned with naval warfare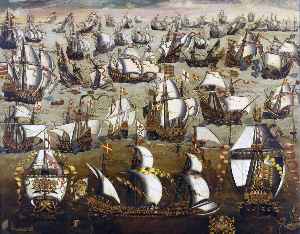 A navy or maritime force is the branch of a nation's armed forces principally designated for naval and amphibious warfare; namely, lake-borne, riverine, littoral, or ocean-borne combat operations and related functions. It includes anything conducted by surface ships, amphibious ships, submarines, and seaborne aviation, as well as ancillary support, communications, training, and other fields. The strategic offensive role of a navy is projection of force into areas beyond a country's shores. The strategic defensive purpose of a navy is to frustrate seaborne projection-of-force by enemies. The strategic task of the navy also may incorporate nuclear deterrence by use of submarine-launched ballistic missiles. Naval operations can be broadly divided between riverine and littoral applications, open-ocean applications, and something in between, although these distinctions are more about strategic scope than tactical or operational division.


Washington, Tehran at odds over whether U.S. downed Iranian drone
The United States and Iran were at odds on Friday about a U.S. assertion that its Navy had brought down an Iranian drone in the Gulf, with Tehran showing video footage that it said disproved the..
Reuters - Published
Trump Says Navy Ship Shot Down Iranian Drone
At the White House, the president said the Navy ship Boxer was defending itself against an Iranian drone that had refused to back down after being warned.
NYTimes.com - Published
Trump Expresses Skepticism Of UFOs
President Donald Trump said in an interview he had "one very brief meeting" about UFOs. According to Business Insider, Trump said he doesn't believe there are UFOs. When asked if he would know..
Credit: Wochit News Duration: 00:32Published
Trump On Future US Supercarriers
President Donald Trump criticized the Navy's plans to install new electromagnetic aircraft launch systems on its new Ford-class supercarriers while talking to US troops at a Memorial Day event in..
Credit: Wochit News Duration: 00:49Published
Trump says U.S. shot down Iranian drone that was threatening Navy ship U.S.S. Boxer
Trump said the drone was threatening a U.S. ship and was "immediately destroyed."
USATODAY.com - Published
Search this site and the web:
You Might Like