Lisbon
Capital city in Lisbon metropolitan area, Portugal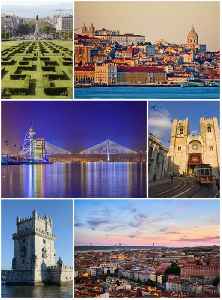 Lisbon is the capital and the largest city of Portugal, with an estimated population of 505,526 within its administrative limits in an area of 100.05 km2. Lisbon's urban area extends beyond the city's administrative limits with a population of around 2.8 million people, being the 11th-most populous urban area in the European Union. About 3 million people live in the Lisbon metropolitan area, including the Portuguese Riviera. It is mainland Europe's westernmost capital city and the only one along the Atlantic coast. Lisbon lies in the western Iberian Peninsula on the Atlantic Ocean and the River Tagus. The westernmost portions of its metro area form the westernmost point of Continental Europe, which is known as Cabo da Roca, located in the Sintra Mountains.


New Lisbon airport gets green light from environment watchdog
Portugal's environmental agency has given the green light for a new airport in Lisbon, but only if the project meets certain conditions, including measures to reduce noise and protect wildlife.
Reuters - Published
Snowden will make first major appearance since U.S. lawsuit at conference next month
Fugitive U.S. intelligence whistleblower Edward Snowden will speak next month by video at Web Summit in Lisbon, billed by the organizers as the world's largest annual tech conference.
Reuters - Published
Europe's loneliest far-right party losing election battle in Portugal
Waving Portuguese flags, leaders of the far-right National Renovation Party (PNR) waited for more people to turn up at a mid-September rally in Lisbon, but their patriotic chants fell on deaf ears.
Reuters - Published
Far-right conference in Lisbon draws hundreds on to streets in protest
Hundreds of activists marched through some of Lisbon's main streets on Saturday in protest at a conference of far-right groups organized by Portugal's Nova Ordem Social which attracted around 65 people..
Reuters - Published
Portugal charges 89 Hells Angels after Lisbon attack last year
Portuguese prosecutors have charged 89 members of the Hells Angels motorcycle club with involvement in organized crime, attempted murder, robbery and drug trafficking, the public prosecutor's office..
Reuters - Published
10 best cities for day trips: Get out of town and explore these close-by destinations
If you're going to be in London, Paris, Lisbon, Boston, Dublin, San Francisco, Sydney, Tokyo, Reykjavik or Cape Town, we've got day trip ideas.
USATODAY.com - Published
Portugal is the new hot travel destination. Here's why
Portugal, and Lisbon in particular, has been popping up lately as a hot travel destination – and with good reason.
USATODAY.com - Published
You Might Like