Hurricane Katrina
Category 5 Atlantic hurricane in 2005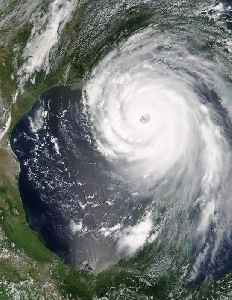 Hurricane Katrina was the costliest tropical cyclone on record, tied with Hurricane Harvey in 2017, causing $125 billion in damage, particularly in the city of New Orleans and the surrounding areas, and over 1,200 deaths. The storm was the third major hurricane of the record-breaking 2005 Atlantic hurricane season, and the fourth-most intense Atlantic hurricane on record to make landfall in the contiguous United States, behind only the 1935 Labor Day hurricane, Hurricane Camille in 1969, and Hurricane Michael in 2018.


New Orleans Restaurants, Used to Disasters, Reckon With Something Worse
The dining and bar scene, so central to the city's identity, emerged strong from Hurricane Katrina. But the coronavirus crisis is different.
NYTimes.com - Published
Today in History for September 15th
Highlights of this day in history: Four black girls killed in a church blast in Alabama; President George W. Bush vows massive rebuilding after Hurricane Katrina; Nazi Germany adopts Nuremberg laws;..
USATODAY.com - Published
"You need to overprepare": Former Louisiana Gov. Bobby Jindal shares tips for surviving a hurricane
There will be no rest in Florida this Labor Day weekend as Hurricane Dorian approaches. Dorian could be the strongest storm to hit Florida's east coast since Hurricane Andrew in 1992. An emergency has..
CBS News - Published
The group rebuilding homes in the aftermath of hurricanes
It has been two years this weekend since Hurricane Harvey made landfall in Texas. Along with Hurricane Katrina, Harvey is as the costliest storm on record, with damage estimated at $125 billion. Most..
CBS News - Published
Kathleen Blanco, Louisiana's first woman governor, dies, led state through hurricanes
Trailblazing former Louisiana Governor Kathleen Babineaux Blanco, whose tenure was dominated by the trauma of Hurricanes Katrina and Rita in 2005, has died from complications of cancer, the state's..
Reuters - Published
Former Louisiana Gov. Kathleen Blanco has died at 76
Kathleen Blanco, Louisiana's first female governor who oversaw the state during the strikes and aftermath of Hurricanes Katrina and Rita, has died Sunday afternoon at age 76. She had been battling..
CBS News - Published
Kathleen Blanco, Louisiana governor during Katrina, dies at 76
Blanco was the first elected female governor in Louisiana's history. She died Sunday after a long battle with cancer.  
USATODAY.com - Published
Kathleen Blanco, first female governor of Louisiana, dead at 76
Blanco was governor of Louisiana during Hurricane Katrina and Hurricane Rita
CBS News - Published
New Orleans residents on high alert for flooding
New Orleans is below sea level -- and Barry will test the safeguards that the city put in place following the devastation from Hurricane Katrina 14 years ago. Residents felt a sigh of relief after..
CBS News - Published
New Orleans braces for Tropical Storm Barry
A state of emergency was declared and the National Guard was activated in Louisiana amid the threat of Tropical Storm Barry. Improvements in flood protection were made after Katrina, and are about to..
CBS News - Published
Abandoned Six Flags park may soon come down
An abandoned New Orleans amusement park that has stood empty since Hurricane Katrina in 2005 may finally be torn down. (July 5)  
USATODAY.com - Published