Amanda Serrano
Puerto Rican boxer and mixed martial artist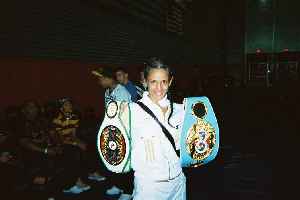 Amanda Serrano is a Puerto Rican professional boxer, mixed martial artist and professional wrestler. As a boxer, she has held the WBO and interim WBC featherweight titles since September 2019. She is the only female, and Puerto Rican, to win world titles in more than four weight classes, and holds the Guinness World Record for the most boxing world championships won in different weight-classes by a female, having held 9 major world titles across seven different weight classes.


You Might Like
"Sunday Morning" Full Episode 11/17
This week "Sunday Morning," hosted by Jane Pauley, features Lee Cowan's cover story on art restorers striving to clean or repair priceless works of art. Plus: Pauley interviews her former "Today" show..
CBS News - Published
Ringside: The women of boxing
Heather Hardy and Amanda Serrano, two of the biggest names in women's boxing, have known each other for years. But recently, when they climbed into the ring at the Theater at Madison Square Garden in..
CBS News - Published
Women in the ring: Female boxers
Heather Hardy and Amanda Serrano are exemplars of a sport that still receives much less recognition than men's boxing, and where prizefighting comes without much of a prize
CBS News - Published
Search this site and the web: