Mojave Desert
Desert in southwestern United States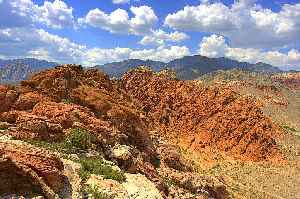 The Mojave Desert is an arid rain-shadow desert and the driest desert in North America. It is in the southwestern United States, primarily within southeastern California and southern Nevada, and it occupies 47,877 sq mi (124,000 km2). Very small areas also extend into Utah and Arizona. Its boundaries are generally noted by the presence of Joshua trees, which are native only to the Mojave Desert and are considered an indicator species, and it is believed to support an additional 1,750 to 2,000 species of plants. The central part of the desert is sparsely populated, while its peripheries support large communities such as Las Vegas, Barstow, Lancaster, Palmdale, Victorville, and St. George.


World's biggest airplane takes flight for first time over Mojave desert
The 500,000-pound Stratolaunch jet took off for the first time ever for a two-hour flight over California's Mojave desert. It's designed as a flying launch pad for as many as three satellite-laden..
CBS News - Published
World's largest plane makes first flight over California
The world's largest aircraft took off over the Mojave Desert in California on Saturday, the first flight for the carbon-composite plane built by Stratolaunch Systems Corp, started by late Microsoft..
Reuters - Published
World's largest plane takes off for the first time
The largest plane in the world successfully completed its first flight after taking off in the Mojave desert in the United States
Credit: euronews (in English) Duration: 00:40Published
'World's biggest plane' in numbers
A look at the figures behind the 'world's biggest plane'. Built by Stratolaunch, it took its maiden flight over the Mojave Desert in Los Angeles on April 13. The aircraft is designed to act as a flying..
Credit: PA - Press Association STUDIO Duration: 00:51Published
Search this site and the web:
You Might Like