Philippines
Country in Southeast Asia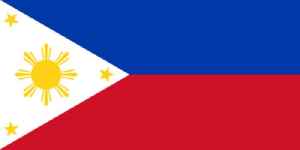 The Philippines, officially the Republic of the Philippines, is an archipelagic country in Southeast Asia. In the western Pacific Ocean, it consists of about 7,641 islands that are broadly categorized under three main geographical divisions from north to south: Luzon, Visayas, Mindanao. The capital city of the Philippines is Manila and the most populous city is Quezon City, both within the single urban area of Metro Manila. Bounded by the South China Sea on the west, the Philippine Sea on the east and the Celebes Sea on the southwest, the Philippines shares maritime borders with Taiwan to the north, Japan to the northeast, Palau to the east, Indonesia to the south, Malaysia and Brunei to the southwest, Vietnam to the west, and China to the northwest.


Trump Just Can't Keep A Secret, And That's A Big Problem

Boasting of his 'great intel,' US President Donald J. Trump told Russian officials in 2017 about an ISIS plot so classified that he risked exposing the source. In the same year, Trump revealed to the..
Credit: Wochit News Duration: 00:43
Published
COVID-19: Philippine schools struggle to educate poor children

Children from vulnerable communites are suffering as distance learning is put in place during the coronavirus pandemic.
Credit: Al Jazeera STUDIO Duration: 02:21
Published
MT New Diamond fire incident: 'One dead, one missing, informs DG Coast Guard

The Director General of the Indian Coast Guard, K Natarajan informed that there is one loss of life as of now. Unfortunately, one other person is still missing due to fire incident at Motor Tank (MT)..
Credit: ANI Duration: 01:55
Published
Philippines: Activists fight to change culture of harassment

The age of sexual consent is 12 years in the Philippines, one of the lowest in the world.
Credit: Al Jazeera STUDIO Duration: 02:26
Published
Philippines faces worst COVID-19 crisis in Southeast Asia

A strict lockdown in the capital, Manila is easing, and many are hoping it will help kickstart economic recovery.
Credit: Al Jazeera STUDIO Duration: 02:38
Published
Strong quake in Philippines kills one

A magnitude 6.6 earthquake struck the Philippines on Tuesday, killing at least one person and damaging roads and buildings, including a hospital and a sports complex being used as a novel coronavirus..
Credit: Reuters Studio Duration: 00:37
Published
Powerful earthquake jolts central Philippines, homes damaged

A powerful earthquake has hit a central Philippines region, damaging houses and a seaport and prompting people to run outdoors for safety
Credit: Al Jazeera STUDIO Duration: 01:53
Published
Small businesses are 'barely surviving': Duterte

Philippine President Rodrigo Duterte lifted the strict coronavirus lockdown in and around the capital Manila as his government promised a "refreshed" approach to fighting COVID-19 that includes..
Credit: Reuters Studio Duration: 00:49
Published
Philippines confirms death of ex-Wirecard exec

Former Wirecard executive Christopher Bauer, one of several people being investigated over a multi-billion dollar fraud at the German payments firm, died in The Philippines last month, the Justice..
Credit: Reuters Studio Duration: 01:31
Published
Duterte reimposes coronavirus lockdown as he criticises doctors

Philippine president orders restrictions in Manila, neighbouring provinces affecting as many as 25 million people.
Credit: Al Jazeera STUDIO Duration: 02:37
Published
Philippines closes in on Indonesia for most SE Asian COVID-19 cases

The Philippines has reported more than 3,200 new coronavirus infections, pushing it close to Indonesia as the worst-hit county in Southeast Asia.
Credit: Al Jazeera STUDIO Duration: 02:27
Published
You Might Like



EU leaders call on Philippines to drop charges against Maria Ressa

Resolution passed by the European Parliament calls out the extrajudicial killings of thousands of Filipinos and retaliation against journalists.




CBS News - Published





He Killed a Transgender Woman in the Philippines. Why Was He Freed?

The pardon of U.S. Marine Lance Cpl. Joseph Scott Pemberton by President Rodrigo Duterte is the final chapter in a case that reignited debate over old defense treaties.




NYTimes.com - Published





Philippine leader pardons U.S. Marine in transgender woman's murder

President Duterte's sudden intervention has infuriated the victim's family, and rights groups call it a "revolting" caving-in to "U.S. imperialist interests."




CBS News - Published





Filipino YouTube star Lloyd Cafe Cadena dies at 26: 'May he be remembered for all the joy'

Lloyd Cafe Cadena, a popular Filipino personality hailed as "one of the pioneers of YouTube vlogging" in the Philippines, has died. He was 26.




USATODAY.com - Published





Jamal Khashoggi, other "guardians" are Time's Person of the Year for 2018

Time magazine has revealed its pick for Person of the Year: a group of journalists that the magazine is calling "the guardians." They include slain reporter Jamal Khashoggi; the Capital Gazette..




CBS News - Published





Special Report: Obama announces health care law changes

President Obama addressed the media today, announcing that his administration will give health insurers the option to keep offering consumers plans that would otherwise be canceled. The president also..




CBS News - Published





11/10: Death toll rising in super typhoon aftermath; The storied football team of Gallaudet

As Typhoon Haiyan reaches Vietnam, more images reveal the complete devastation the storm caused in the Philippines. Shop owners are protecting their stores from looters as relief efforts try to get to..




CBS News - Published





Alicia Keys brightens spirits in typhoon-torn Philippines

The singer spends time with evacuees who fled Typhoon Haiyan, "Mandela: Long Walk to Freedom" gets a NYC special screening and more of today's top entertainment headlines




CBS News - Published





Watch: Typhoon Haiyan storm surge captured on video

A new video taken by an aid worker from the top floor of a boarding house shows the storm's destructive power. Charlie Rose reports on the relief effort in Tacloban, Phillipines.




CBS News - Published





Typhoon Haiyan leaves 2 million homeless

The official death toll in the Philippines from Typhoon Haiyan is approaching 4,000 and 1,100 people are listed as missing. The U.N. estimates the storm has left as many as 2 million people homeless,..




CBS News - Published





Why disaster relief still takes so long to reach hard-hit areas

As the hardest-hit parts of the Philippines begin to receive humanitarian aid, Dr. Irwin Redlener, director of the National Center for Disaster Preparedness at Columbia University, explains why..




CBS News - Published





School becomes shelter for typhoon victims

In the typhoon-ravaged city of Tacloban in the Philippines, at least a thousand people who lost their homes are seeking refuge at a school where they are beginning to receive desperately needed food..




CBS News - Published





American storm chasers record massive typhoon in Philippines

Bill Whitaker reports on an American storm chaser who went beyond merely capturing the destruction of Typhoon Haiyan on video.




CBS News - Published





Typhoon Haiyan: Massive humanitarian response underway

Millions of people are without food or shelter after the deadly storm. Humanitarian efforts are underway by the United States, the United Nations, as well as dozens of other countries and..




CBS News - Published





Typhoon Haiyan aftermath brings growing desperation

Mark Stone, of Sky News, reports on the devastation stretching for miles around the city of Tacloban, Phillipines, where 220,000 people lived before Typhoon Haiyan.




CBS News - Published





Corporations aide in Typhoon Haiyan relief effort

Samsung, Toyota, HSBC Bank and Ikea are among the companies pledging money to the relief efforts in the Philippines, Wal-Mart's holiday deals will begin 2 hours earlier than last year and a survey..




CBS News - Published





Massive typhoon reduces Philippine neighborhoods to rubble

Typhoon Haiyan wreaked havoc on the Philippines, reducing entire neighborhoods to rubble with its 150 mph winds and a storm surge reportedly up to 40 feet high. Rescue efforts are difficult in the..




CBS News - Published





Super typhoon Haiyan: Philippines slammed by record-breaking storm

One of the most powerful typhoons in history made landfall over the Philippines packing winds of more than 200 miles per hour. At least four people are dead, and more than 700,000 people were evacuated..




CBS News - Published





Documentary spotlights Filipina journalist

The documentary "A Thousand Cuts" shows journalist and news organization founder Maria Ressa's struggles with the government of Philippines President Rodrigo Duterte. (Aug. 11)  




USATODAY.com - Published





Critics fear Philippines could use COVID crisis to crack down on dissent

"In an environment of horrific rights abuses and impunity, the situation is bound to worsen," a human rights watchdog said.




CBS News - Published





One Good Thing: Donated bikes help amid pandemic

In the wake of business closures and job losses in the Philippines, thousands of Filipinos have found themselves struggling to make ends meet. With a severely restricted public transportation system in..




USATODAY.com - Published





Newlyweds spend wedding money on healthcare heroes

Bride and groom in the Philippines spend wedding money on hospital workers and people in need.




USATODAY.com - Published





U.S. concerned by libel verdicts against Philippine journalists

The U.S. State Department said on Tuesday it is concerned about court verdicts against two journalists in the Philippines and called for the case against them to be resolved in ways that reinforced a..




Reuters - Published





As economy slumps, Philippines lets eateries reopen to recoup job losses

The Philippines is getting back to business after one of the world's strictest coronavirus lockdowns spanning nearly three months, allowing restaurants to reopen this week for dine-in customers in an..




Reuters - Published





Partial restrictions to remain in capital as Philippines tackles virus

Philippine President Rodrigo Duterte said on Monday partial restrictions would remain in place in the capital Manila for another two weeks because the threat from the new coronavirus was still present.




Reuters - Published





Fears for Philippines press freedom as court finds Maria Ressa guilty of libel

The head of a Philippine news website known for its tough scrutiny of President Rodrigo Duterte was convicted of libel on Monday and faces a lengthy jail term in what is being seen as a blow to media..




Reuters - Published





Philippine court finds news site chief Maria Ressa guilty of libel

The head of a Philippine news website known for its tough scrutiny of President Rodrigo Duterte faces up to six years in jail after being found guilty of cyber libel by a Manila court on Monday in what..




Reuters - Published





Philippines must pass anti-terrorism bill to stay off "grey list": council

The Philippines risks being included in an international "grey list" of nations falling short of global money-laundering rules if it fails to enact and effectively implement a new anti-terrorism bill,..




Reuters - Published





Philippine protesters rally over controversial anti-terror bill

More than 1,000 Filipinos on Friday braved the threat of coronavirus infection to protest against a controversial new anti-terrorism bill, which is awaiting Philippine President Rodrigo Duterte's..




Reuters - Published





Philippines reports nine novel coronavirus deaths, 443 more infections

The Philippines' health ministry on Thursday confirmed nine more new coronavirus deaths and 443 additional infections.




Reuters - Published




Philippine officials visit disputed South China Sea island

The Philippines' defence minister and military officials have made a trip to a disputed South China Sea island just a few miles from a base built by China, a visit that could draw criticism from..




Reuters - Published





Philippines students face distance learning until COVID-19 vaccine found

With schools in the Philippines only due to reopen when a vaccine for COVID-19 has been found, educational authorities are racing to devise a distance learning regime for 27 million children by August,..




Reuters - Published





Philippines probes proliferation of fake Facebook accounts after anti-terror law protest

The Philippines is investigating the proliferation of fake Facebook accounts using the identities of students, journalists and government officials, which appeared after an anti-terror law protest, the..




Reuters - Published





Philippine coronavirus death toll rises to 1,003

The Philippines on Sunday reported nine more fatalities related to the novel coronavirus, taking its death toll to 1,003.




Reuters - Published





Philippines' Duterte renews threat to kill drug dealers after big bust

Philippine President Rodrigo Duterte renewed on Friday a threat to kill drug dealers after police seized 756 kg (1,667 lb) of methamphetamines, a haul he said proved the Southeast Asian country had..




Reuters - Published





'Near impunity' for drug war killings in Philippines, U.N. says

Tens of thousands of people in the Philippines may have been killed in the war on drugs since mid-2016 amid "near impunity" for police and incitement to violence by top officials, the United Nations..




Reuters - Published




Philippines' Duterte U-turns on scrapping of U.S. troop deal

Philippine President Rodrigo Duterte has suspended his decision to scrap a two-decade-old troop deployment agreement with the United States due to political and other developments in the region, his..




Reuters - Published





Duterte's 'draconian' anti-terror bill alarms activists in Philippines

Lawyers and human rights activists in the Philippines have raised the alarm over a new anti-terrorism bill pushed by the President Rodrigo Duterte, warning of draconian and arbitrary provisions that..




Reuters - Published





Philippines suspends scrapping of troop agreement with U.S.: minister

The Philippines has suspended its decision to scrap a two-decade-old Visiting Forces Agreement (VFA) with the United States, its foreign minister said on Tuesday.




Reuters - Published





Philippines capital comes back to life although virus threat lingers

Millions of people returned to work in the Philippine capital on Monday as one of the world's strictest and longest coronavirus lockdowns was eased to help resuscitate an economy that has been battered..




Reuters - Published





Virus-hit cruise liner leaves Japan after a month's quarantine

The Costa Atlantica cruise ship, which docked in southern Japan with over 100 crew members testing positive for COVID-19, has left the country and is en route to the Philippines, local government..




Reuters - Published





Philippines reports 862 additional coronavirus infections, seven more deaths

The Philippines on Sunday reported 862 additional coronavirus cases and seven more deaths from the respiratory disease.




Reuters - Published





Philippines confirms eight more coronavirus deaths, 590 new cases

The Philippines' health ministry on Saturday reported eight additional deaths from the novel coronavirus and 590 new infections.




Reuters - Published





Relief, disappointment as Philippines restarts some transport services

Philippine taxi dispatcher Meliza Venal heaved a sigh of relief when she learned that hundreds of her company's drivers can finally go back to work after being stuck in their homes for 11 weeks.




Reuters - Published





Philippines eases one of world's toughest curbs amid spike in coronavirus cases

Philippine President Rodrigo Duterte eased one of the toughest and longest lockdowns in the world for residents in the capital Manila from June 1, even as the country saw its biggest spike in..




Reuters - Published





Philippines' Duterte eases lockdown in capital from June 1

Philippines President Rodrigo Duterte on Thursday approved a recommendation to ease the lockdown in the capital Manila from June 1, resuming much-needed activity in an economy on the brink of..




Reuters - Published





Philippines confirms 539 new coronavirus cases, largest single-day increase

The Philippines' health ministry on Thursday reported 17 more novel coronavirus deaths and 539 new infections, the largest number of cases reported in a single day since the virus was first detected in..




Reuters - Published





Philippines task force backs easing one of world's toughest lockdowns

The Philippines' coronavirus task force has recommended President Rodrigo Duterte ease one of the toughest and longest lockdowns in the world for residents in the capital who have endured nearly 11..




Reuters - Published





Philippines' task force recommends easing of lockdown in capital

The Philippines' coronavirus task force has recommended to President Rodrigo Duterte easing lockdown measures in Manila from June 1, despite the country still reporting some of its highest daily..




Reuters - Published





'Finally free' - homebound Filipinos cheer end to quarantine ordeal

Hundreds of repatriated Filipino workers made their way to bus and airport terminals on Tuesday to return to families, the first among around 24,000 nationals stuck for weeks in the capital's..




Reuters - Published