Mindy Kaling
American actress, writer, comedian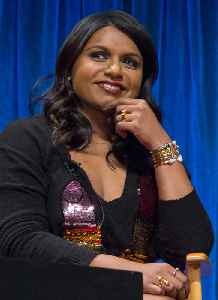 Vera Mindy Chokalingam, known professionally as Mindy Kaling, is an American comedian, actress and writer. From 2005 to 2012, she played Kelly Kapoor in the NBC sitcom The Office. In addition to acting in it, she was a writer, executive producer, and director. For her work on the series, she received a Primetime Emmy Award nomination for Outstanding Writing in a Comedy Series in 2010.


Will Mindy Kaling and B.J. Novak "get back together"?
In this web exclusive, writer and actress Mindy Kaling talks to Luke Burbank about the public's fascination with her relationship with actor B.J. Novak, who played her boyfriend on the hit comedy..
CBS News - Published
Sunday Profile: Mindy Kaling
When she was a little kid, Mindy Kaling didn't see anyone on TV who looked like her, and yet she's built a career as a writer and actress who is remarkably relatable, whether it's her characters in the..
CBS News - Published
Mindy Kaling recalls near snub over 'The Office' Emmy; academy denies trying to cut her
Mindy Kaling shared that the Television Academy almost cut her name from the list of producers for "The Office" because there were just "too many."
USATODAY.com - Published
Meghan McCain rips 'Mindy Project' producer for 'cruel' tweet, brings Mindy Kaling into it
"I know we can't be judged by everyone we work with but still," Meghan McCain wrote in a tweet that mentioned Mindy Kaling.
USATODAY.com - Published
Mistaken Identity: Mindy Kaling
Rather than being mistaken for another actress, Mindy Kaling has been confused with a teenage activist. (July 9)  
USATODAY.com - Published
Mindy Kaling shares bikini photo with body positive message: 'You don't have to be a size 0'
Mindy Kaling took to Instagram Friday to share photos of herself in a couple of bikinis along with an encouraging message to her followers
USATODAY.com - Published
Robert Mueller, Mexico, Mindy Kaling: Your Monday Evening Briefing
Here's what you need to know at the end of the day.
NYTimes.com - Published
"Sunday Morning" Full Episode 6/2
This week's "Sunday Morning" hosted by Jane Pauley features Richard Schlesinger's cover story about the restoration of a World War II C-47 transport, to be flown as part of the 75th anniversary..
CBS News - Published
Mindy Kaling on "Late Night," and taking nothing for granted
The actress-writer talks her new film, and of confounding Hollywood's expectations (and her own)
CBS News - Published
You Might Like