Aston Martin
English manufacturer of luxury sports cars and grand tourers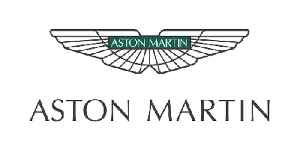 Aston Martin Lagonda Global Holdings plc is a British independent manufacturer of luxury sports cars and grand tourers. It was founded in 1913 by Lionel Martin and Robert Bamford. Steered from 1947 by David Brown, it became associated with expensive grand touring cars in the 1950s and 1960s, and with the fictional character James Bond following his use of a DB5 model in the 1964 film Goldfinger. Their sports cars are regarded as a British cultural icon. Aston Martin has held a Royal Warrant as purveyor of motorcars to the Prince of Wales since 1982, and has over 160 car dealerships in 53 countries making it a global automobile brand. The company is traded at the London Stock Exchange and is a constituent of the FTSE 250 Index. In 2003 it received the Queen's Award for Enterprise for outstanding contribution to international trade. The company has gone bankrupt seven times in its history.


You Might Like
James Bond's Aston Martin is back on the market for $3.5 million
Just 25 of the timeless models are being built.
CBS News - Published
Aston Martin cars through the years
Ultra-luxury carmaker Aston Martin of James Bond celebrates 100 years of coachbuilding.
USATODAY.com - Published
Car collector's dream: NY car auction to sell off classics, rare finds and supercars
The event is spearheaded by an entrepreneur who has produced glitzy unveilings for the likes of Rolls-Royce, Aston Martin and Bentley.
USATODAY.com - Published
James Bond's Aston Martin may fetch millions at auction
The most famous car in the world can be yours – and the spy gadgets work!
CBS News - Published
With a license to drive and $4 million, you can buy James Bond's Aston Martin from 'Goldfinger'
James Bond's 1965 Acton Martin DB5 "Most Famous Car in the World" goes up for sale this August. Valued between $4-6 million, will you buy the spy car?
USATODAY.com - Published
Rolls-Royce, Aston Martin, Lamborghini car prices plunge as ultra-luxury market expands
Had your eye on a Rolls-Royce, Aston Martin or Lamborghini? Now might be your time as prices fall. Or you can just keep dreaming, like us.
USATODAY.com - Published
Time to buy!: Luxury car prices have fallen
Luxury car brands like Lamborghini, Rolls-Royce, Aston Martin and others have experienced price drops since peaking in 2017.
USATODAY.com - Published