Lou Gehrig
American baseball player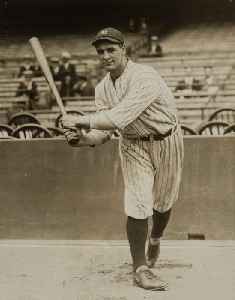 Henry Louis Gehrig was an American professional baseball first baseman who played 17 seasons in Major League Baseball (MLB) for the New York Yankees (1923–1939). Gehrig was renowned for his prowess as a hitter and for his durability, which earned him his nickname "The Iron Horse." He was an All-Star seven consecutive times, a Triple Crown winner once, an American League (AL) Most Valuable Player twice, and a member of six World Series champion teams. He had a career .340 batting average, .632 slugging average, and a .447 on base average. He hit 493 home runs and had 1,995 runs batted in (RBI). He still has the highest ratio of runs scored plus runs batted in per 100 plate appearances (35.08) and per 100 games (156.7) among Hall of Fame players. In 1939, he was elected to the Baseball Hall of Fame and was the first MLB player to have his uniform number (4) retired by a team.


You Might Like
Today in History for July 4th
Highlights of this day in history: America's Declaration of Independence; Former Presidents John Adams and Thomas Jefferson die on same day; Israel's raid at Entebbe; West Point opens; Lou Gehrig's..
USATODAY.com - Published
Lou Gehrig bat, which dates to 1922, sells for more than $1 million
The historic 1922 bat New York Yankees Hall of Famer Lou Gehrig wanted copied after signing his first endorsement contract fetches $1.025 million.
USATODAY.com - Published
George Springer set a record with his latest World Series home run
The Astros outfielder has homered in five consecutive World Series games, breaking a tie with Reggie Jackson and Lou Gehrig.
USATODAY.com - Published
Wood sculptor David Esterly
The delicate and expressive wood carvings of sculptor David Esterly may take months, even years, to create, conjured from the subtle neurological connections between the artist's brain and the hand...
CBS News - Published
Search this site and the web: