Chris Coons
United States Senator from Delaware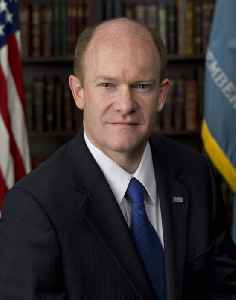 Christopher Andrew Coons is an American politician serving as the Junior United States Senator from Delaware since 2010. A member of the Democratic Party, he won a special election to succeed Ted Kaufman, who had been appointed to the seat when Joe Biden resigned to become Vice President of the United States. Previously, Coons was the county executive of New Castle County. Coons is the 1983 Truman Scholar from Delaware, and the first recipient of the award to serve in the United States Senate.


Senator Chris Coons on "The Takeout"
Delaware Senator Chris Coons joins Major Garrett to discuss Joe Biden's candidacy, the question of impeachment, and how the definition of socialism has evolved in the post-recession era on this..
CBS News - Published
Delaware Sen. Chris Coons says Biden is "95 percent" ready to run
Coons spoke to CBS News Chief Washington Correspondent Major Garrett on this week's episode of "The Takeout" podcast
CBS News - Published
U.S. lawmakers warn Trump 'emergency' sets dangerous precedent
Democrats and some Republicans in the U.S. Congress condemned President Donald Trump's attempt to use a national emergency to construct a wall along the border with Mexico. Lisa Bernhad reports.
Credit: Reuters Studio Duration: 02:10Published
Lawmakers argue over Trump's nat'l emergency declaration
On CBS 'Face the Nation', Republican Senator Lindsey Graham said he supported President Trump's national emergency declaration to build the wall while Republican Texas Congressman Will Hurd and..
Credit: Reuters Studio Duration: 01:21Published
Trump Confronts Democrat Over Abortion
Donald Trump confronted Democratic Senator Chris Coons during the National Prayer Breakfast. According to Politico, the president spoke to him about the issue of abortion. Sources told Politico the..
Credit: Wochit News Duration: 00:32Published
Sen. Chris Coons says he's "confident" Biden will run in 2020
"Joe Biden is someone who sees the differences in our country and inspires us," said Coons
CBS News - Published
Search this site and the web:
You Might Like