Lloyd Blankfein
American business executive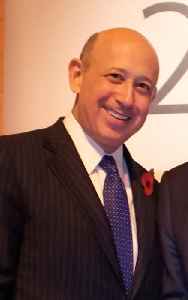 Lloyd Craig Blankfein is an American investment banker who has served as senior chairman of Goldman Sachs since 2019, and chairman and chief executive from 2006 until the end of 2018. He assumed the office after former chief executive, Henry Paulson, was asked to serve as the 74th United States Secretary of the Treasury. Previous to leading Goldman Sachs, he was the company's president and chief operating officer (COO) from 2004 to 2006, serving under Paulson.


Billionaire dodges what Warren "tribalism" tweet meant
Former Goldman Sachs CEO Lloyd Blankfein, a target of senator's presidential campaign, says it's "for you" to decide
CBS News - Published
Goldman's Blankfein calls Warren's criticism of billionaires 'tribalism'
Lloyd Blankfein, a former Goldman Sachs chief executive, criticized Elizabeth Warren for engaging in the "vilification" of billionaires on Thursday and said that "maybe tribalism is just in her DNA,"..
Reuters - Published
Warren vs. billionaires: wealth tax fight heats up
A new commercial launched by Democratic presidential hopeful Senator Elizabeth Warren taking aim at billionaire critics of her wealth tax has sparked a war of words with several wealthy heavyweights..
Credit: Reuters Studio Duration: 02:31Published
Elizabeth Warren: Billionaires On Blast
Senator Elizabeth Warren is taking her squabble with opposing billionaires to TV by buying ad time for CNBC this week, a campaign aide told CNBC. The video is titled "Elizabeth Warren Stands Up to..
Credit: Wochit News Duration: 00:35Published
Search this site and the web:
You Might Like