LeBron James
American basketball player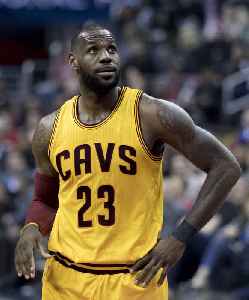 LeBron Raymone James Sr. is an American professional basketball player for the Los Angeles Lakers of the National Basketball Association (NBA). He is often considered the best basketball player in the world and regarded by some as the greatest player of all time. His accomplishments include four NBA Most Valuable Player Awards, three NBA Finals MVP Awards, and two Olympic gold medals. James has appeared in 15 NBA All-Star Games and been named NBA All-Star MVP three times. He won the 2008 NBA scoring title and is the all-time NBA playoffs scoring leader. He has been voted onto the All-NBA First Team 12 times and the All-Defensive First Team five times.


LeBron James praises Zion Williamson's athleticism, intangibles after watching Duke
After seeing Duke and Zion Williamson face Virginia, LeBron James told ESPN he was impressed by both the freshman's athleticism and intangibles.
USATODAY.com - Published
Scottie Pippen blasts LeBron James for lack of effort, says he doesn't have MJ's 'clutch gene'
Hall of Famer Scottie Pippen criticized Los Angeles Lakers forward LeBron James on Thursday, saying James had "little to no effort" in a recent game.
USATODAY.com - Published
What Is NBA All-Star Weekend 2019?
The midseason break pits the league's best players against each other. Lebron James and Giannis Antetokounmpo are the team captains in NBA's 2019 All-Star Weekend.
Credit: Newsweek Duration: 01:01Published
LeBron James Hailed Tom Brady As The Greatest Of All Time
Tom Brady just won his sixth Super Bowl with the New England Patriots. According to Business Insider, NBA superstar LeBron James hailed the quarterback in as the greatest of all time. On Sunday, The..
Credit: Wochit News Duration: 00:38Published
Does LeBron James' Team Want The Lakers Coach Fired?
LeBron James is looking to return to the court after recovering from a groin injury. According to Deadspin, LeBron's team may be looking for some changes in the team management. In a podcast,..
Credit: Wochit News Duration: 00:32Published
Wedding Art Installation At Palms Casino Is An Instagram Dream
Joshua Vides, a graphic designer and visual artist is best known for his black-and-white collaborations with stars like Lebron James and Takashi Murakami. His latest project, "Reality to Idea" doesn't..
Credit: Wochit News Duration: 00:42Published
LeBron James Declared Himself Greatest Player Ever
LeBron James declared himself the greatest player ever for helping the Cleveland Cavaliers win the 2016 championship. In the wake of his comments, several members of the NBA community, namely former..
Credit: Wochit News Duration: 00:35Published
The Sports World Takes To Social Media To Honor Stuart Scott
Four years following the loss of his battle with cancer many in the sports world took to social media to pay tribute to "SportsCenter" anchor Stuart Scott. NBA star LeBron James wrote, "Gone but..
Credit: Wochit News Duration: 00:44Published
LeBron James: I'm The GOAT
LeBron James said winning the 2016 championship with the Cleveland Cavaliers made him the greatest NBA player of all-time. During an episode of ESPN's "More Than An Athlete," James reflected on winning..
Credit: Wochit News Duration: 00:33Published
LeBron James Apologizes For 'Racist Instagram Post
(CNN)LeBron James has apologized after posting song lyrics on Instagram that included the phrase "getting that Jewish money." Over the weekend, the Los Angeles Lakers forward posted an Instagram story..
Credit: Wochit News Duration: 00:41Published
LeBron James Calls Out NFL
LeBron James didn't hold back when talking about the difference between NBA and NFL owners on the latest episode of his HBO show The Shop. In a conversation with Todd Gurley, Maverick Carter and Ice..
Credit: Wochit News Duration: 00:41Published
LeBron vs. Jordan: players and execs weigh in during NBA All-Star Weekend
What I'm Hearing: HoopsHype's Alex Kennedy spoke with 20 people across the NBA to see where league personnel stand on the LeBron vs. Jordan debate.
USATODAY.com - Published
Trae Young leads Hawks past LeBron James, Lakers 117-113
Rookie Trae Young had 22 points and 14 assists, John Collins also scored 22 points despite foul trouble, and the Atlanta Hawks defeated LeBron James and the Los Angeles Lakers 117-113
USATODAY.com - Published
One game showed how terrifying new 76ers team can be
With just one game with Tobias Harris in the lineup, the 76ers smashed LeBron James and the Lakers on Sunday. The 76ers have a new ceiling.
USATODAY.com - Published
LeBron James: Too early to compare 76ers starting five to Warriors
Lakers star LeBron James has faced Stephen Curry and the Warriors in the NBA Finals in each of the past four seasons.
USATODAY.com - Published
LeBron, Giannis choose their teams for the All-Star Game
LeBron James finally has Anthony Davis as a teammate, at least for one game
USATODAY.com - Published
2019 NBA All-Star Game draft: Team captains Giannis, LeBron make their picks
The NBA's All-Star Game draft, featuring LeBron James and Giannis Antetokounmpo as team captains, was televised for the first time on Thursday night.
USATODAY.com - Published
You Might Like