LeBron James
American basketball player for the Los Angeles Lakers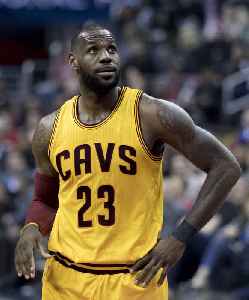 LeBron Raymone James Sr. is an American professional basketball player for the Los Angeles Lakers of the National Basketball Association (NBA). He is often considered the best basketball player in the world and regarded by some as the greatest player of all time. His accomplishments include three NBA championships, four NBA Most Valuable Player Awards, three NBA Finals MVP Awards, and two Olympic gold medals. James has appeared in fifteen NBA All-Star Games and been named NBA All-Star MVP three times. He won the 2008 NBA scoring title, is the all-time NBA playoffs scoring leader, and is fourth in all-time career points scored. He has been voted onto the All-NBA First Team twelve times and the All-Defensive First Team five times.


What's next for Lakers after Anthony Davis trade? Top free agents to target
With LeBron James and Anthony Davis in town, what the Los Angeles Lakers do in free agency this summer will be huge for the franchise's future.
USATODAY.com - Published
'Just the beginning': LeBron James welcomes Anthony Davis to Lakers
Superstar big man Anthony Davis is headed to the Los Angeles Lakers, and his new teammate, LeBron James, couldn't be happier.
USATODAY.com - Published
Anthony Davis Gets Traded Into The Los Angeles Lakers
ESPN reported that the New Orleans Pelicans agreed to trade Anothony Davis to the Los Angeles Lakers. In exchange they are getting Lonzo Ball, Brandon Ingram, Josh hart and three first-round picks...
Credit: Wochit News Duration: 00:32Published
Leonard, Raptors one win from NBA title after game four victory over Warriors
Kawhi Leonard and the Toronto Raptors one win from first NBA title after 105-92 victory over the Golden State Warriors in game four of the NBA Finals
Credit: Reuters - Sports Duration: 01:11Published
LeBron James Won't Be In The NBA Finals For The First Time In 9 Years
The NBA Finals begin on Thursday, and for the first time since 2010, LeBron James will not be playing. But while the Raptors and Warriors prepare to compete for the trophy, James doesn't seem to feel..
Credit: Wochit News Duration: 00:55Published
What Did Conor McGregor Learn From LeBron James?
Conor McGregor has been known as one of the flashiest fighters in combat sports. He made $99 million in 2018 and has since launched a popular whiskey brand, Proper No. Twelve, and a clothing line..
Credit: Wochit News Duration: 00:59Published
LeBron James Rants On 'Real Basketball' After Blazers Big Win
In a series of tweets, LeBron James argued that math shouldn't be a consideration in playoff basketball, where any good shot matters. James' tweets came after the Portland Trail Blazers' C.J. McCollum..
Credit: Wochit News Duration: 00:33Published
Kawhi Leonard Is Saving The Raptors' Season By Doing Something Michael Jordan, LeBron James, and Kobe Bryant never accomplished
The Toronto Raptors evened their second-round series with the Philadelphia 76ers at 2-2 on Sunday, thanks to a heroic performance from Kawhi Leonard. Leonard scored 39 points on 13-of-20 shooting to go..
Credit: Wochit News Duration: 00:39Published
Dennis Rodman Slams LeBron James For Having "No Moves"
Five time NBA champion, Dennis Rodman, claims that three time NBA champ, LeBron James is easy to play. According to Business Insider, Rodman recently slammed James for being "too simple" on the YouTube..
Credit: Wochit News Duration: 00:53Published
Search this site and the web:
You Might Like