Mount Everest
Earth's highest mountain, part of the Himalaya between Nepal and China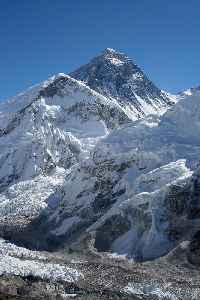 Mount Everest, known in Nepali as Sagarmatha (सगरमाथा) and in Tibetan as Chomolungma (ཇོ་མོ་གླང་མ), is Earth's highest mountain above sea level, located in the Mahalangur Himal sub-range of the Himalayas. The international border between Nepal and China runs across its summit point.


Paradise lost: 400 million pieces of trash discovered on beaches of remote tropical islands
We know trash is everywhere on Earth, all the way from the top of Mount Everest to the very bottom of the ocean. Now, giant mounds of it are even washing up on the shores of otherwise pristine..
USATODAY.com - Published
Deepest dump? American explorer spots plastic garbage in world's deepest ocean
We know Mount Everest is littered with tons of trash. Now we know garbage has also been spotted at the world's deepest ocean depth.
USATODAY.com - Published
Plane hits helicopter at Nepal airport, killing three
Three people have died and four injured after a small plane crashed into a parked helicopter at an airport in Nepal. Rough cut (no reporter narration)
Credit: Reuters Studio Duration: 00:53Published
Mount Everest Gives Up Its Dead
According to Mother Nature Network, Like other constants disrupted by climate change around the world, burial under snow and ice on Mount Everest is no longer a final resting place with any certainty.
Credit: Wochit News Duration: 00:40Published
Search this site and the web:
You Might Like