Gila River
River in the United States of America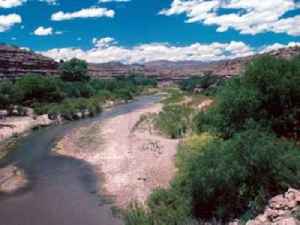 The Gila River is a 649-mile (1,044 km) tributary of the Colorado River flowing through New Mexico and Arizona in the United States. The river drains an arid watershed of nearly 60,000 square miles (160,000 km2) that lies mainly within the U.S. but also extends into northern Sonora, Mexico. Indigenous peoples have lived along the river for at least 2,000 years, establishing complex agricultural societies before European exploration of the region began in the 16th century. However, European Americans did not permanently settle the Gila River watershed until the mid-19th century.


These are the 10 most 'endangered' rivers of 2019. New Mexico's Gila River gets the top 'dishonor'
Sure, we know about endangered species, but did you know there are endangered rivers, too?
USATODAY.com - Published
Search this site and the web:
You Might Like