Whitney Houston
American singer, actress, model, and record producer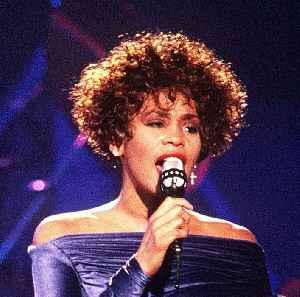 Whitney Elizabeth Houston was an American singer and actress. She was cited as the most awarded female artist of all time by Guinness World Records and remains one of the best-selling music artists of all time with 200 million records sold worldwide. Houston released seven studio albums and two soundtrack albums, all of which have been certified diamond, multi-platinum, platinum, or gold by the Recording Industry Association of America (RIAA). Her crossover appeal on the popular music charts—as well as her prominence on MTV, starting with her video for "How Will I Know"—influenced several female African-American artists.


Robyn Crawford shares secret romance with Whitney Houston: 'It wasn't anything planned'
Whitney Houston's longtime friend Robyn Crawford reveals that she and the late singer had a secret love affair, which they broke off out of fear.
USATODAY.com - Published
ShowBiz Minute: Houston, Booker, Trump
Whitney Houston, Notorious B.I.G. nominated for Rock Hall of Fame; It's a tie: Margaret Atwood and Bernardine Evaristo share fiction's Booker Prize; Trump calls for Sean Spicer votes on "Dancing with..
USATODAY.com - Published
Rock Hall 2020: First-time nominees Whitney Houston, Notorious B.I.G. head list
Singer Whitney Houston and rapper Notorious B.I.G. are on the list of 16 nominees considered for induction into the Rock and Roll Hall of Fame.
USATODAY.com - Published
Raphael Saadiq opens up about grief, loss and his most personal project yet
Singer, songwriter and record producer Raphael Saadiq has been working in the music industry for more than 30 years. He started his career with the R&B group Tony! Toni! Toné! and later moved on to..
CBS News - Published
Whitney Houston died in 2012, but her hologram is going on tour next year
BASE Hologram will soon bringing Houston's electric performances back to the stage.
USATODAY.com - Published
Kevin Costner reveals secret about Whitney Houston and that iconic 'The Bodyguard' poster
The actor revealed the poster, which shows him holding a woman, was not actually his co-star Whitney Houston.
USATODAY.com - Published
You Might Like