Fidel Castro
Leader of Cuba from 1959 to 2011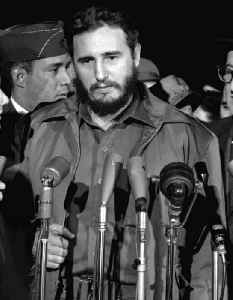 Fidel Alejandro Castro Ruz was a Cuban communist revolutionary and politician who governed the Republic of Cuba as Prime Minister from 1959 to 1976 and then as President of the Council of State and Council of Ministers from 1976 to 2008. A Marxist–Leninist and Cuban nationalist, Castro also served as the First Secretary of the Communist Party of Cuba from 1961 until 2011. Under his administration, Cuba became a one-party communist state, while industry and business were nationalized and state socialist policies were implemented throughout society.


Sanders Cuba Problem

Bernie Sanders campaign is doing well. He won the first three nominating contests. However, he has a major problem: his admiration of Fidel Castro. On 60-Minutes, Sanders praised Castro's Cuban..
Credit: Wochit News Duration: 00:34
Published
You Might Like
Cubans who lived through Castro's literacy program frustrated by Bernie Sanders' praise
Bernie Sanders continues to praise Fidel Castro's literacy program in Cuba, but those who lived through it saw more propaganda than education
USATODAY.com - Published
AP Top Stories February 25 A
Here's the latest for Tuesday February 25th: (Trump-Modi); Sanders criticized for Castro comments; Weinstein convicted.  
USATODAY.com - Published
Bernie Sanders' Cuba comments draw criticism
Democratic presidential candidate Senator Bernie Sanders is facing blowback from both parties for his comments about the late Cuban dictator Fidel Castro. Democratic representative Donna Shalala of..
USATODAY.com - Published
Cuba names prime minister in move to lighten presidential load
Cuban President Miguel Diaz-Canel on Saturday named tourism minister Manuel Marrero Cruz as the country's first prime minister in decades, under a new constitution that seeks to decentralize former..
Reuters - Published
Cuba acknowledges 'vestiges' of racism, launches program to fight it
Cuba's government has launched a program to combat racism, acknowledging that a problem that Fidel Castro tried to eliminate after the 1959 leftist revolution remains unresolved.
Reuters - Published
Marco Rubio "not against changes" in U.S. policy towards Cuba
In the wake of Fidel Castro's death, Florida Sen. Marco Rubio, who is Cuban-American, predicts there will be a "generational leadership change in Cuba over the next five to 10 years."
CBS News - Published
The legacy of Fidel Castro
How has controversial leader Fidel Castro shaped the nation of Cuba? After his passing, Jeffrey Goldberg of the Atlantic and CBS News analyst Julia Sweig reflect on the life of Fidel Castro and Cuba's..
CBS News - Published
When Fidel Castro took power
A look back at CBS News correspondent Edward R. Murrow's 1959 interview with Fidel Castro. Castro died Friday at age 90.
CBS News - Published
Democrat de Blasio apologizes for Che Guevara phrase in Miami
Democratic presidential candidate Bill de Blasio apologized on Thursday for unwittingly quoting Ernesto "Che" Guevara, a Marxist revolutionary reviled by many Cuban-Americans for helping Fidel Castro..
Reuters - Published
Castro and O'Rourke spar over immigration policy
The two Texans on the debate stage, former Obama Housing Secretary Julián Castro and former U.S. Rep. Beto O'Rourke, had a heated debate about part of the immigration law. CBSN political reporter..
CBS News - Published
The Prime Minister, The Alzheimer's Laboratory, Castro
Prime Minister Matteo Renzi explains his radical plan for Italy; then, can Alzheimer's be prevented? Lesley Stahl reports on a family that may hold the key to that critical question; and, Edward R...
CBS News - Published