Bank of America
American multinational banking and financial services corporation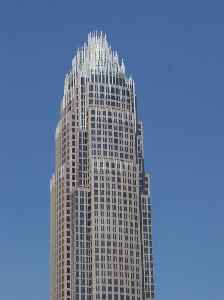 The Bank of America Corporation is an American multinational investment bank and financial services company headquartered in Charlotte, North Carolina, with central hubs in New York City, London, Hong Kong, Minneapolis, and Toronto. Founded in San Francisco, Bank of America was formed through NationsBank's acquisition of BankAmerica in 1998. It is the second largest banking institution in the United States, after JPMorgan Chase. As a part of the Big Four, it services approximately 10.73% of all American bank deposits, in direct competition with Citigroup, Wells Fargo, and JPMorgan Chase. Its primary financial services revolve around commercial banking, wealth management, and investment banking.


The future of the American mall
Almost 1,700 stores inside malls closed in 2018, according to Bank of America, and so far this year, closings have reached more than 4,000. But one company believes it has found a way to reverse the..
CBS News - Published
Bank of America hiking minimum wage to $20 an hour
It will be first major U.S. financial institution to crack $20 line, reflecting the tight labor market
CBS News - Published
Dow closes above 29,000 for first time
The Dow finished above the 29,000 mark for the first time Wednesday as investors welcomed the signing of a U.S.-China trade deal. Fred Katayama reports.
Credit: Reuters Studio Duration: 01:18Published
NASCAR playoffs 2019: Schedule, lineup, TV and more for Bank of America Roval 400 at Charlotte
All the information you need to get ready for Sunday's Bank of America Roval 400, the first elimination race of the NASCAR Cup Series playoffs.
USATODAY.com - Published
Which major supermarkets offer the best prices?
Bank of America analysts reviewed six big supermarket chains for their prices on 54 items like produce, meat and dairy. Here's how it all added up.
CBS News - Published
Bank of America to cut ties with companies that help run immigrant detention centers, private prisons
Bank of America has decided to "exit the relationships" it has with companies that provide prisoner and immigrant detention services.
USATODAY.com - Published
Bank of America to stop financing operators of private prisons, detention centers
Bank of America Corp said on Wednesday it will no longer finance operators of private prisons and detention centers, joining peers in distancing itself from a sector that has triggered protests over..
Reuters - Published
You Might Like